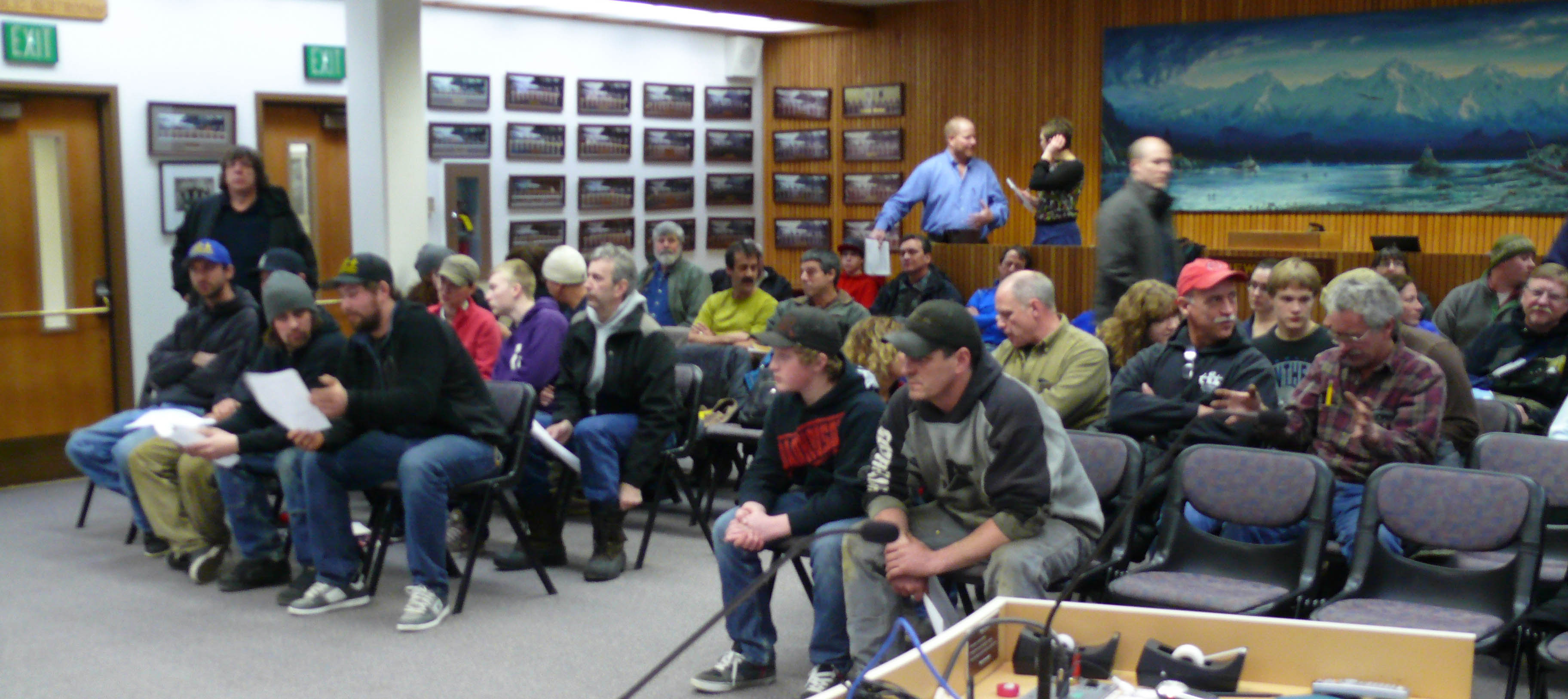 A Juneau advisory panel backed conceptual plans to develop an off-road vehicle park out-the-road Tuesday night.
Meanwhile, some North Douglas residents are threatening lawsuits against Juneau for merely considering the possibility of developing an off-road vehicle park near their homes.
Public testimony at Tuesday's Parks and Recreation Advisory Committee meeting was largely a rehash of the asymmetric rhetoric it heard in its November meeting. Sixteen North Douglas residents sounded off in public testimony in opposition to the one particular site under consideration near their homes. They're concerned about noise, property values and their quality of life. A dozen riding enthusiasts more or less testified that they support the creation of any legal place in Juneau to ride their dirt bikes, ATVs and snowmachines.
The other four sites under the committee's consideration were not challenged by nearby residents in public testimony.
The North Douglas residents are particularly upset because they fought back a more expansive off-road vehicle park plan in 2008 that would have brought motorized vehicles on trails as close as 350 feet to their homes. Tuesday's concept did not include trails and limited off-roading to the floor of the city-owned rock quarry off Fish Creek Road. It's about 1,400 feet to the closest homes.

In about two hours of testimony, there was anger, straight talk, legalese, distrust and appeals from riders.
Benjamin Carney: "The current approach the city is taking lacks intelligence and appears to be motivated by desire. Rather than focusing on a large area that would be met by – with little resistance, legalities and reason have been suspended to ram through a park for which there is great resistance and legal reasons to not do so."
Jim Sheehan:"I am a person who loves snow machining, four-wheeling and dirt bikes. I grew up in Fairbanks, Alaska, I'm a lifelong Alaskan. It just—you know, love it, have no problem with it. I just don't want it in my backyard.
Kent Sullivan:"My issue with this proposal at Fish Creek is what's called 'res judicata.' And res judicata in the law means 'a matter adjudged.' And what that doctrine means is that once a matter has been decided, it can't be brought up again."
Vance Sanders (who is a member of the KTOO Board of Directors):"We've been at this now, the neighborhood association in north Douglas, this is the second time– it's like Groundhog Day for us. We don't trust the city as far as we can throw them. You know, we thought this was done before when we met this issue head on, and we were done with this, that we were done with this for awhile. And here we are again."
Joleen Langel:"I can tell you no matter where we go, no matter where you put us, we're gonna be happy. But at the end of the day, we're not going to displace anybody else because we have been the displaced. We know what it's like when you get kicked out of your sandbox. It hurts your feelings. And you don't want anybody else to feel that way."
What two of those speakers did not mention in their testimony was that they recently threatened the city in writing with a lawsuit for merely considering the Fish Creek site.
In a Nov. 12 letter to the city attorney, Kent Sullivan and Jim Sheehan (both North Douglas residents and lawyers) wrote that "relatively soon" the city should "reasonably expect litigation regarding any further suggestion that it is appropriate to use the Fish Creek Quarry."
Tuesday, the Parks and Recreation Advisory Committee voted 8-0 to recommend the Juneau Assembly pursue two out-the-road sites for a possible park and to ditch any consideration of sites near homes.
One site is city-owned at Mile 35. City staff estimates put its development costs at $3 to $12 million. However, riders have said they can donate a lot of labor and materials to defray that cost.
The other site is a quarry owned by Goldbelt Inc. near Echo Cove. It's unclear if the Native corporation is amenable to making a deal for public access to its land. If it were, the city estimates the cost of developing the site into an off-road vehicle park at less than $250,000.
"So we're putting all of our eggs in the Goldbelt basket right now," said advisory committee chairman Jeff Wilson.
His committee's recommendation doesn't put the lawsuit threat to bed, because the decision-making power on whether an off-road vehicle park gets funding and permitting lies with the Juneau Assembly and the Planning Commission.