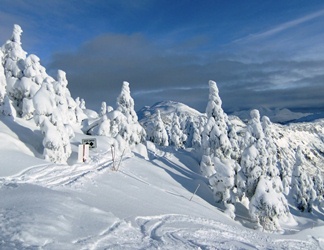 It's Eaglecrest Ski Area versus Mount Bohemia, Michigan in the Final 4 of the Ski Town Throwdown.
Voting is Monday and Tuesday for the two small mountains, which beat a number of large, well-known resorts in their region to get to the Final 4 of Powder Magazine's March Madness-style popularity contest.
Juneau's city-owned ski area became the Great White North champion after getting more votes in various rounds than four major British Columbia resorts; while Mount Bohemia – in Michigan's Upper Peninsula — just knocked out Mad River Glen, Vermont to become the Big East champion, previously taking down other major eastern ski resorts in the first rounds.
You can vote once each day, until 11 p.m. Tuesday on Powder Magazine's Facebook page.