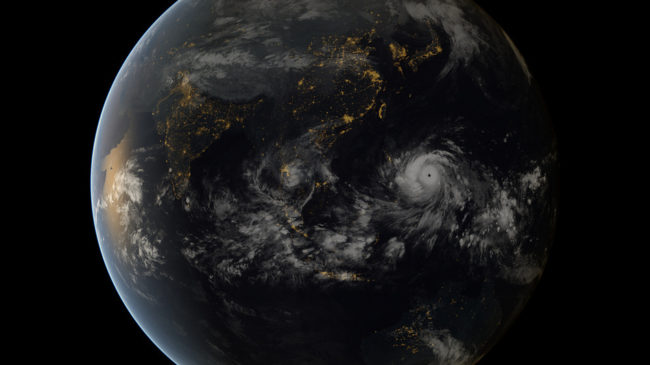 Meteorologists weren't holding back Friday after watching in amazement as Typhoon Haiyan roared over the Philippines with pounding rain and top sustained winds approaching 200 mph as it neared the coast.
It is "the strongest tropical cyclone on record" that's made landfall, writes Jeff Masters at Wunderground.
Since we last posted about the storm Thursday evening, there's been word that as Haiyan slammed the islands it caused landslides, knocked out power and has led to the deaths of at least four people, The Associated Press reports.
That death toll is expected to rise. According to the AP, "close to 720,000 people had been evacuated from towns and villages in the typhoon's path across the central Philippines, the National Disaster Risk Reduction and Management Council said." Getting word about what's happening is going to take some time:
"Telephone lines appeared down as it was difficult to get through to the landfall site 405 miles southeast of Manila where Typhoon Haiyan … slammed into the southern tip of Samar island before barreling on to Leyte Island."
Correspondent Simone Orendain, who is in Manila, tells our Newscast Desk that authorities are "working with private radio groups to get word" about the extent of the damage so far and any more deaths.
The good news is that Haiyan is now back over water, allowing authorities to lower their public warnings — a sign that the worst is over.
The BBC is live blogging about Haiyan here.