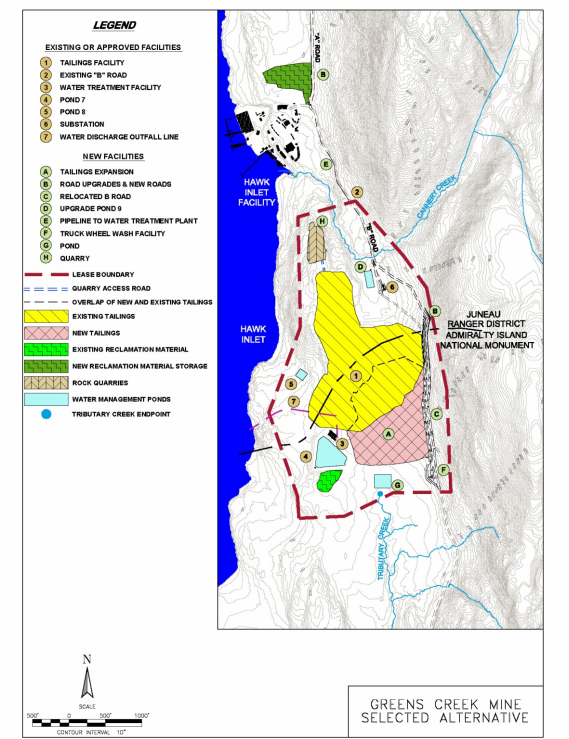 The U.S. Forest Service announced on Friday that the Hecla Greens Creek Mine on Admiralty Island will be allowed a limited expansion of its current tailings facility while more information is collected about impacts to water quality and fish habitat.
Tongass National Forest Supervisor Forrest Cole wrote in the Record of Decision (ROD) that was issued on Friday that he made modifications to Alternative D, one of the agency's preferred alternatives in the Final Environmental Impact Statement.
Alternative D Modified, as it's called, will allow Hecla to expand its current tailings disposal facility in the Admiralty Island National Monument by about 18 acres for additional capacity of 2.1 million cubic yards. It is expected to extend the life of the mine about 10 years. An additional eight acres will be used outside of the Monument for a rock quarry, reclamation material storage, and expansion of a water management pond.
The selected alternative avoids disposal of tailings in the vicinity of Tributary Creek, a stream that the Forest Service has designated as a fish habitat. It also does not include a proposed second tailings disposal facility in the Fowler Creek area and removes a proposed expansion of the existing tailings facility by 7.2 acres northeast into the Cannery Creek watershed.
Cole wrote that he made that selection so that operations at the mine would continue as more information is collected from the area. Its selection also doesn't preclude selection of another alternative in the future.
Knowing how strongly people feel about the issues raised by this project, I concluded there will be time to gather and analyze additional
information before authorizing further impacts on the Tributary Creek watershed or a second tailings disposal facility and the associated effects such a facility would have. Thus, while I was hoping to avoid another relatively short-term decision, I have determined that it is the wiser course of action. It allows time to gather and analyze additional information, to thoroughly consider all feasible ways to provide additional tailings disposal capacity, and to clearly and convincingly document such consideration through future NEPA processes" – Tongass National Forest Supervisor Forrest Cole writes in the Record of Decision
The Final Environmental Impact Statement and Record of Decision can be found at this webpage created by the Forest Service.
Related stories:
Comments due on Greens Creek mine tailings expansion draft EIS