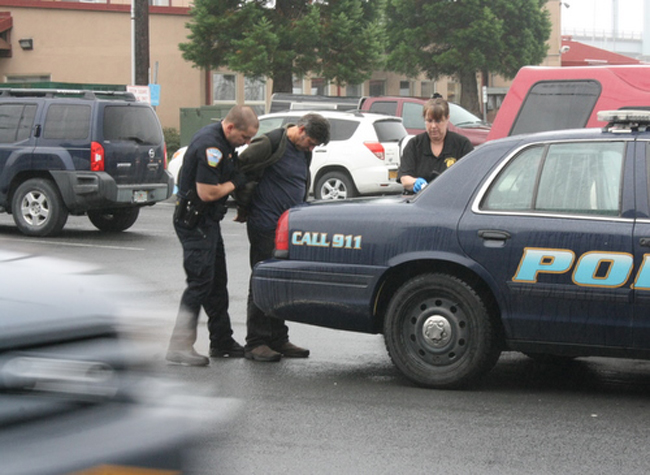 Police brought charges against two men after a weekend shooting at the Pioneer Bar in Sitka.
No one was injured in the incident, which happened shortly after 4 p.m. Sunday.
Court documents and witness accounts tell the following story: Richard Davis, of Juneau, and Keith Widmyer, of Sitka, were arguing inside the Pioneer Bar on a Sunday afternoon.
Widmyer said when he went to use the restroom, Davis followed him in, and a fight ensued.
"I didn't look over my shoulder. I'm going to now, forever," Widmyer told KCAW. "He came through the door and tried to punch me. I just happened to catch it out of the corner of my eye. Caught his arm, threw him on the floor."
Widmyer said he and Davis have had a long-standing feud, and had been arguing inside the bar before the incident in the restroom. Widmyer says at some point, Davis pulled a gun from his waistband.
"When he pulled out the gun, I didn't waste too much time," Widmyer said. "I jumped over his head like a rabbit and was scrambling out the door. I made it right out here to the parking lot, and then I heard the gun go off."
Davis owns the fishing vessel West Bank. Police say his deckhand ran out of the bar with the gun. The deckhand is identified as 22-year-old Tyler Westlund, of Port Townsend, Wash.
"We went and walked outside the back door," said Donald Combs, who had just stepped out of the bar when it happened. "And as soon as we were outside the back door, we were standing there, and we heard a 'crack!' The door swung open, pretty close to us, and a red-headed guy ran straight down to the dock, down that ramp there. He had the gun, trying to stuff it in his pants or something, but the gun was in plain sight."
Davis was in the bar when police arrived. He was arrested, along with Westlund, who police found aboard the West Bank, which is docked in Sitka's ANB Harbor. According to court documents, when police contacted Westlund, he did not have a gun on his body, and denied knowing anything about it.
Davis faces charges of assault and misconduct involving a weapon. Westlund is charged with tampering with physical evidence. Davis and Westlund are represented by Juneau attorney Bruce Weyhrauch, who did not immediately return a call for comment.
Both men remain in custody until at least Friday, when they're scheduled for a bail hearing in Sitka District Court.