When you ask anyone to name animals in Alaska, answers run the gamut from wolves to whales and occasionally the erroneous penguin. But there's one animal that hardly ever makes the list: sharks.
The revered–and often feared–fish are usually the last thing that comes to mind when you think of Alaska.
But Alaskans need look no further than our own chilly waters to find several species of the formidable fish.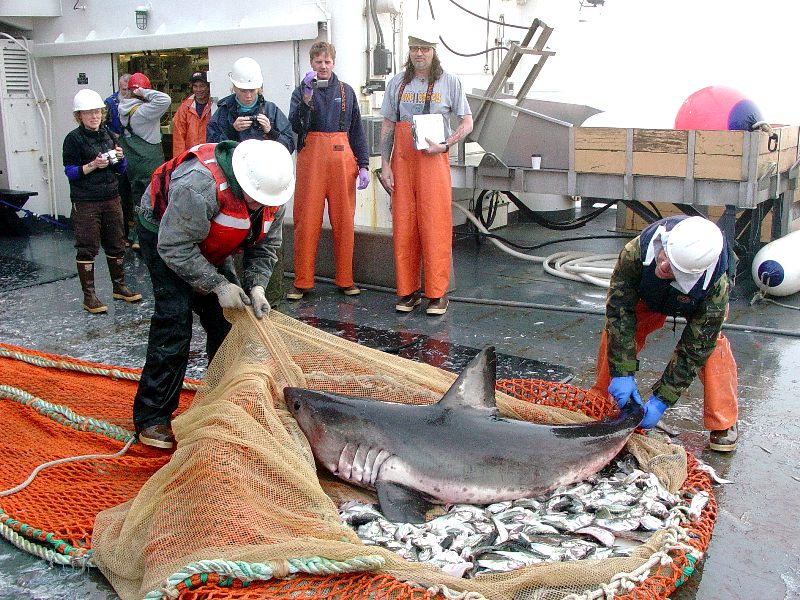 "When you hear 'shark,' the general public thinks of something patrolling the surfing beach and you know, sharks are everywhere. To be honest, there are ten foot sharks right outside our door here."
Cindy Tribuzio works for NOAA at the Auke Bay lab. She's been researching sharks for more than a decade.
It was originally Alaska's more adored sea creatures that drew Tribuzio to the water.
"I was going to save the whales for a long time, and then I realized that everyone else was going to save the whales too. And I really wanted to go to grad school and since everybody else was trying to save the whales in grad school, I started volunteering at the Seattle aquarium while I was waiting to get into school, still trying to save the whales, and I started working in their Puget Sound fish section and I realized there's some really cool other things that happen out there."
She says Alaska is home to three main species of shark including the Spiny Dogfish, the Pacific Sleeper shark and the Salmon Shark. And sometimes even great white and blue sharks are spotted stealing fish from lines and tangling up nets.
The Spiny Dogfish is a small shark that grows to about 3 feet long. It often turns up on beaches or in nets, particularly around Yakutat. Dogfish also appear in Haida and Tlingit stories and artwork.
The Pacific Sleeper is a much larger but more elusive shark that reaches lengths of 10 to 12 feet. They're a dark, sluggish fish that often aren't seen until they get hooked on long lines or scooped up by deep nets.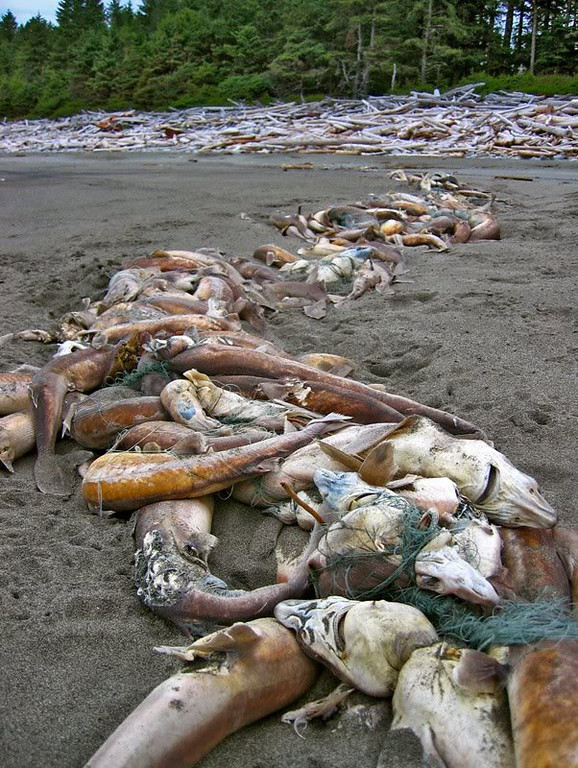 The salmon shark is perhaps the most familiar Alaska shark. Most common in Prince William Sound, these sharks look like smaller versions of their cousin the great white.
None of these species are targeted for commercial fishing, but there is a small charter fishing industry for salmon sharks.
Alaska Fish and Game biologist Dr. Ken Goldman has been studying sharks in Alaska for decades and the salmon shark in particular.
"This animal is one of five different species we know to be endothermic. So they are warm blooded like mammals."
Goldman says the salmon shark's ability to maintain body temperature means it is capable of hunting a diverse range of prey, more than 30 species in fact, including fast swimmers like salmon.
Goldman uses satellite tags to track the sharks' movements around the Pacific, accelerometers to study swimming speed and dive patterns, and builds energy models by putting temperature tags in their stomach and muscles.
"We're kind of radioshacking up the fish up a little bit. Most of the devices come off after a period of time so the fish isn't left with all this jewelry hanging on it for the rest of its life."
Goldman says though sharks have been in Alaska waters for tens of millions of years, not that much is known about them.
"The reality is for salmon sharks and even for spiny dogfish and sleeper sharks, for all three major species in Alaska we have no real, true population estimate."
While few people are doing shark research in Alaska, NOAA's Tribuzio says the number is growing.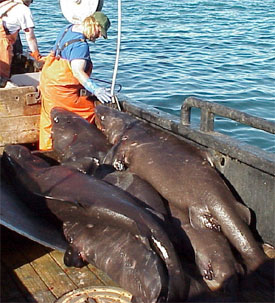 Dean Courtney has been a researcher with NOAA for 15 years. He's building computer models that create a realistic range of life history and commercial by catch rates to infer whether the current sleeper shark by catch is sustainable for the population.
"It's become a conservation issue. Sharks are a relatively long lived and late to mature so they may be more susceptible to overfishing than the target species they're captured with."
Courtney is currently conducting shark research in Florida; he says he encounters people all the time who are surprised to hear that Alaska has sharks.
After 12 years working with spiny dogfish, Tribuzio says she's used to it.
"Everybody focuses on what they call charismatic mega fauna, things that are cute and fuzzy or really shocking, sexy science, and spiny dogfish are anything but that. And the same with sleeper sharks, because you very rarely see them. I think that because there is no danger, the most press these species get is when they interact with commercial fisheries and are usually causing problems."
Although Alaska waters have fewer sharks, Goldman cautions taking them for granted.
"There's less sharks here as far as the number of species, but that doesn't mean their role in the ecosystem is less important than an ecosystem that has 40 species of shark."
(Editor's note: This post has been updated to correct the spelling of Dr. Ken Goldman's name.)