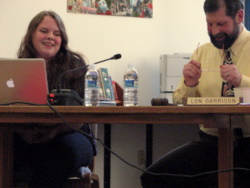 The high cost of travel for extracurricular activities in Sitka's schools has been an ongoing debate for years. Now, the school board is going to take a hard look at whether travel costs students and parents more than just money.
At its regular meeting Monday night (5-6-13), the board officially opened the question of whether Sitka's students — and the teachers who coach them — spend too much time away from class.
For some kids, it's a trip here and a trip there. For junior Ryan Apathy, who participates in Cross Country in the fall, and then in Drama, Debate, and Forensics through early spring, it can be consecutive weekends of competition. If those events are out of town, Apathy and his teammates will likely miss Thursday and Friday of school for travel.
And Apathy is also in Music, which accounts for three out of a total of:
"Ten trips this year, and missed 22 days."
Nevertheless Apathy is succeeding in school, and excelling in the activities he's involved in. Sitka's school board is concerned that Apathy, and kids like him, are the exception, rather than the rule.
"We had a math audit that said that by the time a high school student is a junior, they're already a year behind in Math. In terms of the amount of time they have been in class if they're involved in activities," said board president Lon Garrison, who's interested in exploring a policy implemented recently in the Unalaska School District. The policy limits students to twenty absences from school per year for activities.
See the full story and hear from the students here:
How much school can a student miss?