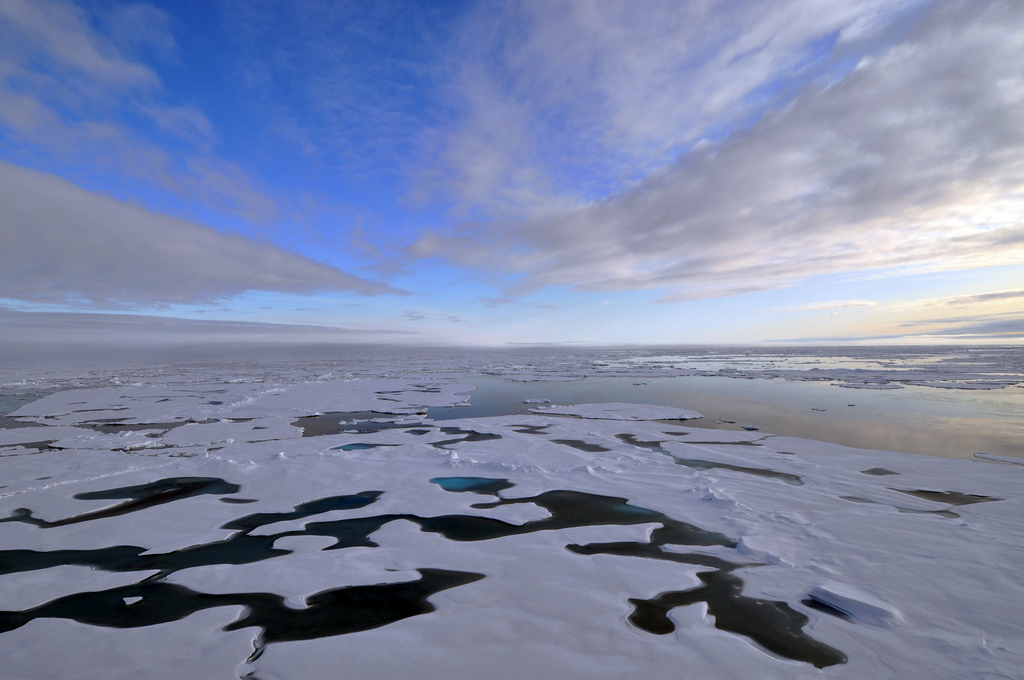 The time has come to stop talking and start acting when it comes to changes in the Arctic.
That was the message of a talk to the Juneau World Affairs Council this week by Alaska Dispatch owner and publisher Alice Rogoff.
Though she does not have a science background, Rogoff took an interest in the Arctic about five years ago and has travelled extensively in the region from her home in Anchorage. In 2011 and 2012, she organized the Arctic Imperative Summit, a policy gathering in Alaska that looks at opportunities and challenges posed by melting sea ice.
Next week she will be in Washington, D.C. with Iceland's President to announce a new nonprofit designed to promote international cooperation on Arctic issues.
Experts say if sea ice continues to melt at the rate it is today, a new shipping channel will open up through the Arctic Ocean by the year 2050. Alice Rogoff says that scientific prediction informs her vision of Alaska's future.
"That means the Panama Canal runs along the western coast of Alaska," Rogoff says.
She envisions a year round deep water Arctic port in Nome or Port Clarence; smaller seasonal ports in Barrow and Kotzebue; and increased search and rescue capabilities and other services for the shipping industry throughout the region.
"If you were looking down from Mars in 2050, the western coast of Alaska would be all lit up," says Rogoff. "There would be some form of commercial activity all the way from Barrow to Dutch Harbor."
Obviously, she says there will be consequences – namely pollution and the loss of subsistence lifestyles. Some communities may disappear. Others might see their populations grow.
But Rogoff sees an opportunity for the state as a whole to broaden its economy.
"Low and behold, we would no longer be an oil dependency," she says.
Rogoff thinks Alaska should take the lead in preparing for the future of the Arctic. For instance, she believes the state should designate Nome as the location for a deep water port rather than wait for the federal government to make a decision.
She worries about local communities having a voice in the process, however, especially since the Alaska Coastal Management Program was dismantled in 2011. ACMP gave communities greater input into state and federal decisions regarding coastal development.
"To me in a democracy it's hard to imagine that the state is going to make decisions for every one of these local communities," Rogoff says. "You all know that in the Lower 48 there's not a town in any state that would let the state tell them what was going to happen in their town, right?"
But she warns preparations for major changes in the Arctic need to happen relatively soon.
"First of all, 2050 might be too far down the road. We might need this by 2030," says Rogoff. "We're talking 20 years. How long does it take to build a port? How long would it take to build a road and a rail line that would link that port complex in Nome to Fairbanks? To the road system? To make it all work as infrastructure for a new and vibrant economy?"
Rogoff notes that China and Russia are already pouring billions of dollars into Arctic research and exploration, while the United States spends a fraction of that. But rather than take a negative view, she says the state and nation should be looking for ways to cooperate with other Arctic countries.
Ten years ago, Rogoff says, virtually nobody was talking about changes in the region. Today, she says there's a new conference on the subject seemingly every week.
"And if you're someone like the President of Iceland who's asked to speak at every one of them, you'd never get off an airplane," she says.
On Monday, Rogoff will be in Washington, D.C. to announce the formation of a new nonprofit, Arctic Circle, with Icelandic President, Ólafur Ragnar Grímsson, who she met through her work on Arctic issues. She serves on the nonprofit's advisory board, which also includes Lieutenant Governor Mead Treadwell and former North Slope Borough Mayor Edward Itta.
Rogoff describes Arctic Circle as similar to the World Economic Forum, which brings international leaders in finance and politics to Davos, Switzerland every year to plot global business strategy. But she says it will be for Arctic states and issues.
"The notion is we will do these gatherings at least once a year, and in a different Arctic location every year," Rogoff says. "So that as a result of going to the gatherings we will all become more familiar with one another's Arctic neighborhoods."
The first Arctic Circle conference is scheduled for October 12th through 14th in Reykjavík. Rogoff says she's talked to officials with the Institute of the North, founded by former Governor Wally Hickel, who plan to be in Iceland for the inaugural meeting.