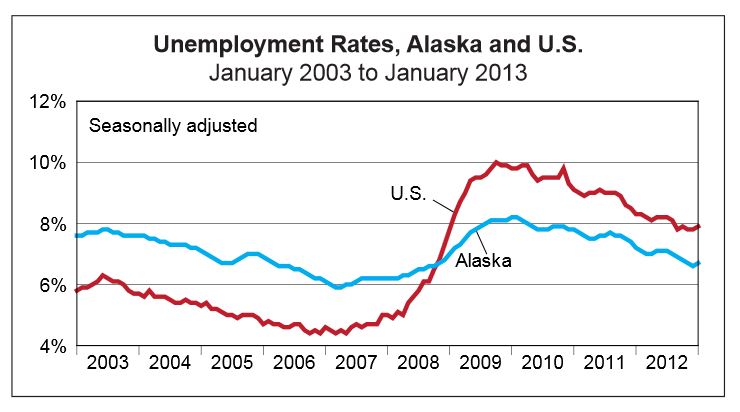 Alaska's unemployment rate has been lower than the national rate for 51 straight months.
That's a record and it's the longest stretch since unemployment has been officially counted in Alaska. Alaska's unemployment rate in January was 7.8 percent but when it's seasonally adjusted it drops down to 6.7 percent.
Once again that's well below the U.S. unemployment rate of 7.9 percent.
Caroline Schultz is an economist with the Alaska Department of Labor and Workforce Development. She and other observers are waiting for things to revert back to the way they used to be before the recession with Alaska's unemployment rate being higher than the national rate.
Compared to January of 2010 the national unemployment rate has dropped by 1.9 percent while Alaska's rate has dropped 1.5 percent. The region of Alaska with the highest unemployment rate is Southwest Alaska where the January rate was 14.6 percent. However, there were some areas in the Southwest region that saw big declines in unemployment in January. For instance the unemployment rate in the Aleutians West Census Area was 20 percent in December but in January it dropped down to 8.9 percent. In the Aleutians East Borough the unemployment rate dropped down from 29.2 percent in December to 12.9 percent in January. Schultz says that's normal for this time of year.
The January unemployment rate in the Wade Hampton Census Area was 22.9 percent and it was 16 percent in the Bethel Census Area. The unemployment rate in the Dillingham Census Area was 11.9 percent, which was up from the 11 percent rate recorded in December. The Lake and Peninsula Borough posted an unemployment rate of 11.8 percent and it was 10.3 percent in the Bristol Bay Borough. Schultz says the unemployment numbers indicate healthy job markets in the population centers of Alaska.
A look around the state shows that the Kenai Peninsula Borough had a January unemployment rate of 9.8 percent and it was 7.1 percent in the Kodiak Island Borough. The highest rate in the state was the 25.4 percent in the Hoonah-Angoon Census Area and the lowest rate in the State was the 4.8 percent in the North Slope Borough.
See Original Story
Alaska's unemployment rates remain below national average