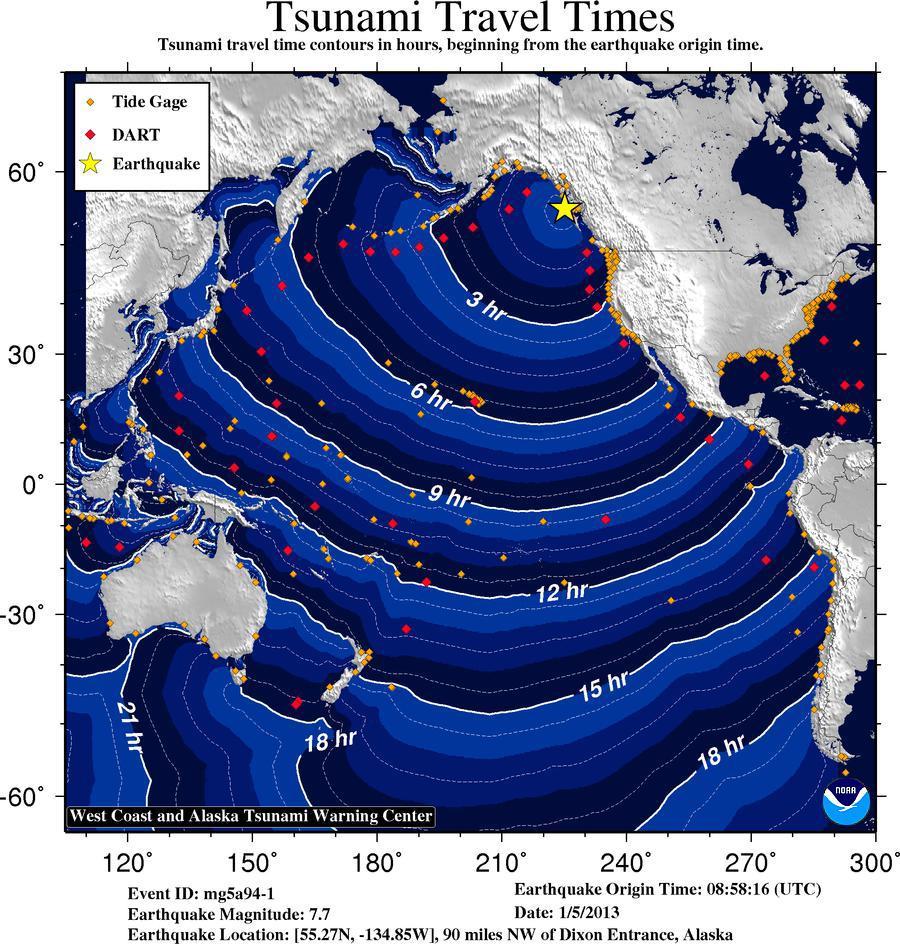 A major earthquake Friday night shook Southeast Alaska residents awake and prompted some in coastal areas to move to higher ground after warnings of a possible tsunami.
The West Coast and Alaska Tsunami Warning Center reported that the 7.5 magnitude earthquake occurred at 11:58 p.m. Alaska time Friday.
The epicenter was located 75 miles northwest of Dixon Entrance, or about 63 miles west of Craig or 208 miles south of Juneau. The quake occurred at a depth of 3.1 miles.
There were no reports of any significant damage or injuries.
GCI released a statement saying the earthquake damaged fiber optic lines serving Wrangell. The company said a crew had arrived in the community Saturday to repair the damage.
A tsunami warning was initially issued for the coast of Alaska and British Columbia ranging from Cape Suckling down to the northern tip of Vancouver Island. Full evacuation of those areas was suggested.
A tsunami advisory was issued for the coast of Alaska ranging from Cape Suckling to Kennedy Entrance and for the Pacific Northwest Coast from the northern tip of Vancouver Island to the British Columbia-Washington border. Residents were advised to stay away from shore.
Officials in Sitka and on Prince of Wales called for an evacuation of low lying areas. Bleary-eyed Petersburg residents drove or walked up the hill to the local ballfields, the post office, and airport.
Chris Cook was working the night shift at downtown Petersburg's Scandia House Hotel when the earthquake hit.
"I haven't felt an earthquake before so I actually thought it was a wind gust," Cook said. "But then I realized that wind would have been louder and doesn't shake things quite on the inside."
A wave of a half-foot was reported in Port Alexander at 1:07 a.m. Alaska time and a wave of a few inches was later reported in Sitka.
At 1:17 a.m., the tsunami advisory was canceled for the coastal areas of British Columbia from the Washington-British Columbia border to the north tip of Vancouver Island, British Columbia.
The City of Craig reported at about 1:45 that they were closing the tsunami evacuation points. A minor tidal surge was experienced, but no tsunami damage was reported.
At 1:58 a.m., tsunami warnings and advisories for all of Alaska, British Columbia, and Washington coastal areas were cancelled by the West Coast and Alaska Tsunami Warning Center.
In an analysis published online by the U.S. Geological Survey shortly after the quake, geologists said Friday night's shaker was related to last October's 7.8 magnitude Haida Qwai earthquake. The more-recent earthquake was the result of shallow strike-slip faulting near the plate boundary between the Pacific and North America plates, and it broke a fault approximately 50 kilometers in length and slipped about seven meters.
The Pacific plate is moving northwestward with respect to the North America plate at a velocity of 51 millimeters per year. U.S.G.S scientists say that area of the plate boundary has hosted eight earthquakes of magnitude 6 or greater over the past 40 years.
As of 12:30 p.m. on January 5, at least thirteen afterschocks ranging in magnitude from 3.5 to 5.1 have been recorded in the same area.