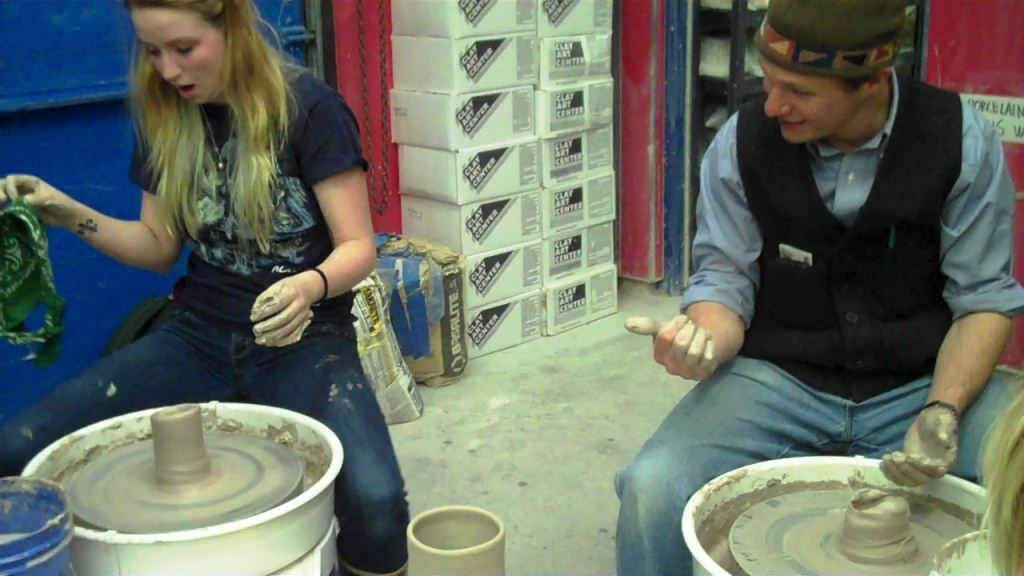 About 1,000 ceramic bones were created at a recent UAS Art Open House, where roughly 300 visitors came to make a difference with their artwork.
For every bone made, $1 will be donated to help genocide victims in places like the Democratic Republic of Congo, Burma and Somalia as part of the One Million Bones project. The bone collection is part of an international effort. The bones are to be installed in the spring on the Washington, D.C. National Mall.
Local artist MK McNaughton introduced UAS Art Professor Pedar Dalthorp to the idea.  Dalthorp uses ceramic for the bones because that medium holds up best for installation.
"Some bones in the past, like for some of the initial bone making attempts were, some of them used paper mache or some other materials that aren't quite as weather proof as ceramics," Dalthorp said.
Dalthorp organized the UAS event, converting studio spaces in the Soboleff building to accommodate the large crowds of people that for an evening became personally involved in UAS art projects.
Teacher Assistant Kate Laster helped set up. She said events like this can generate important dialogue in Juneau about genocide in other parts of the world.
[quote]"It's a really great project because it's a community based thing where we can discuss kind of these unseen people. You know, we're talking about something that's very, very much happening now," said Laster.[/quote]
In addition to building bones, the department also had drawing demonstrations, screen printing, a large-scale deer sculpture, pottery making, and live music by Sammy Burrous.  He played a solo set on acoustic guitar in the oil painting studio that brought a vibrant dimension to the event. His music could be heard throughout the Soboleff building as he crooned his blues standards to the visitors.
Over in the ceramics studio, Keith Cox was blind-folded and had just a couple of minutes to shape a creation out of clay on a pottery wheel using his hands, water, and a sponge during the wheel throw competition. A faculty member judged the pieces on artistic merit.  Though Cox lost the competition, and the sponge, he didn't walk away empty handed.
[quote]"It was stiff, it was a stiff competition. I went in with a high spirit and a lot of confidence that I was really going to successfully make a, like a vase or something, and I came out with something that my son can still eat cereal out of," said Cox.[/quote]
Over at the Whitehead building, art student Doris Alcorn was sculpting an impressive life-size deer – out of 500 pounds of clay on a metal frame.  The sculpture will be hollowed out before it's put into the gas kiln for firing.  Because the piece is so large, the deer is crouching so it fits into the kiln.
Ceramics aren't the only thing popping out of ovens at the UAS Art Department. A wood-fired pizza kiln provided fresh pizzas throughout the evening. What comes out of that oven is always a student favorite.
"It's built as a pizza oven and it's wood-fired so it imparts a little bit of uh, a little extra flavor that you don't normally get out of a conventional oven," Dalthorp said.
To keep up with demand, Chef Josh Reder pumped out the pies as quickly as possible.
"These are homemade dough, homemade sauce, then fired over wood.  Not much new technology in the last two-thousand years,"  Reder said.
Laster said the event shows the public a lot of what goes on in the busy UAS Art Department.
[quote]"What I love about the open house is it's basically bringing in people who don't know we have a pizza oven, bringing in people who've not really come down to Soboleff to actually see the art department and what we do and how much fun we have,"  Laster said.[/quote]
Dalthorp hopes the open house will bring in more students and in turn help them realize their creative and professional potential.
To get involved with the One Million Bones project here in Juneau, contact MK MacNaughton at mk@canvasarts.org. Or visit www.onemillionbones.org.