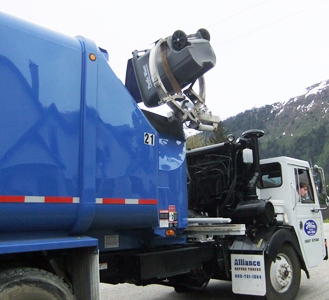 An administrative law judge wants to review an agreement that allows Arrow Refuse to include container rental fees in the overall rate for garbage pickup in Juneau.
Judge John P. Wood on Tuesday ordered the state Law Department and Alaska Pacific Environmental Services to address the September settlement agreement at a December 14th hearing in Anchorage.
Alaska Pacific Environmental Services is the parent company of Arrow Refuse, which rolled out its automated trash pickup service in June. Since then, most Arrow customers have been charged a monthly rental fee for specialized garbage cans that include a gravity lock lid designed to comply with the City and Borough of Juneau's bear ordinance. Some customers have continued to use their own containers, but Arrow charges a tipping fee if a worker has to manually dump trash into a garbage truck.
The Regulatory Commission of Alaska, which sets the amount Arrow can charge for its services, allowed the company to move forward with the new pickup system using an interim rate. But the RCA said it would rule later on whether the company can charge a separate container fee.
The agreement appears to resolve that issue, pending the regulatory commission's approval. However, Judge Wood wants to hear how it affects customers who purchase their own garbage cans.
The RCA has given Alaska Pacific Environmental Services until September 2014 to file a cost of service study to determine how much the company can charge for its automated service long term. The study will be based on Arrow's operating costs for the 2013 calendar year.