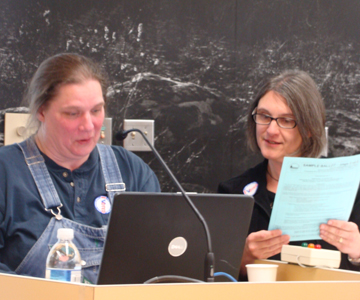 Juneau voters on Tuesday agreed to an extension of the city's temporary one-percent sales tax, ensuring at least $34-million in capital projects will be funded borough-wide through 2018. But a $25-million bond proposition to fund another package of projects is still in doubt.
With absentee and questioned ballots still to be counted, Proposition 1 was failing by the narrowest of margins – 3,094 votes against to 3,037 in favor. Meanwhile, the yes votes for Proposition 2 enjoyed a nearly 1,000 vote advantage – 3,573 in favor to 2,599 against.
Assemblywoman Karen Crane chaired the Finance Committee, which crafted the ballot measures. She said she's not surprised by the too-close-to-call result for Proposition 1.
"The bond issue, I thought that was 50-50 going into that," said Crane. "I think people took a long hard look at it, and it's going to be close."
Assemblyman Jesse Kiehl thinks advocates for specific projects did a good job informing voters about the propositions, especially the sales tax measure. Kiehl said the assembly's decision to ask voters to approve two funding packages came out of a desire to fund a variety of needs despite limited revenue.
"The attempt was to make them both balanced in terms of basic infrastructure, quality of life improvements, and some economic development improvements," said Kiehl. "And so the assembly spent a long time working out what would go in which package, and submitted them to the will of the voters. And it looks like at least the bond was a very close call. We'll see where the voters come down."
The one-percent sales tax extension will take effect next fall when the current fee is due to expire. Revenue from the tax will pay for nearly 30 projects over a five year period, including $4.7-million for a new Mendenhall Valley library; $4-million for a Child and Adolescent Mental Health Facility at Bartlett Regional Hospital; and $3-million for Sealaska Heritage Institute's Walter Soboleff Center.
Juneau residents have approved the so-called "project tax" for nearly 30 years, and Crane said the assembly worked hard to make this extension attractive to voters.
"There was a good mix of projects in there and that helps with the one-percent," Crane said. "So, I'm really pleased that the public's going to continue to support that."
If Proposition 1 passes, $10-million in sales tax revenue would be set aside to pay down debt on the bonds, thus avoiding the need to raise property taxes. If the measure continues to fail, that $10-million would go toward upgrades at Aurora Harbor and deferred maintenance at Centennial Hall.