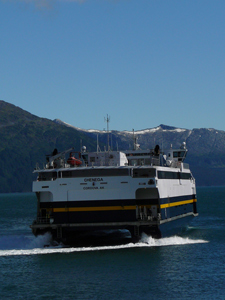 Three weeks before leaving for Germany to take pre-trial depositions in the fast ferry lawsuit, state lawyers are extremely anxious about whether potential witnesses will voluntarily answer questions.
The State of Alaska and the Alaska Marine Highway System are suing the company that made the allegedly defective engines for the Fairweather and Chenega.
Ten potential witnesses, employees of the firm MTU Friedrichshafen, are located in Germany. State attorneys would prefer that the company compel them to appear. Senior Assistant Attorney General Dana Burke predicted a scenario in which the witnesses "don't show up at deposition and then don't show up at trial."
Lawyers for MTU Friedrichshafen and MTU Detroit Diesel — now renamed as Tognum America — say German law forbids them from ordering their employees to participate in oral depositions. General Counsel Christopher Koch said during a teleconferenced status hearing in Juneau Superior Court on Monday that the employees have agreed to appear. But they can only participate voluntarily and they can simply walk out at any time. In addition, potential witnesses cannot be videotaped and cannot take an oath.
That would render their comments less as testimony, and more as a product of a question and answer session. Alaska attorneys are also concerned that MTU/Tognum America will try to use the commentary from those depositions as expert witness testimony during trial.
Tognum America attorneys say there is a formal process to order potential witnesses to appear and answer questions at discovery depositions. But it's up to the attorneys representing Alaska to learn about German law and follow that procedure. Koch said – in directing his comments to State attorneys — that "we're not obliged to do your work."
In addition to the initial ten employees, Burke submitted a request last month to depose three others. But Tognum America officials says those three will likely be unavailable as they have left the company or will be traveling in the last half of October when the depositions are scheduled.
A three-week trial is scheduled to start early next April.
The Connecticut company that built the ferries, Derecktor Shipyard, filed for bankruptcy protection in January and is not currently part of the lawsuit.