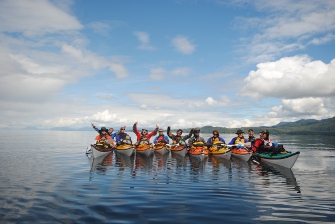 The "Trip South" gang is ready for the next step in their adventure.
Back in June, the group of 20-somethings from Juneau launched an epic kayak and bike trip from Alaska to Tierra del Fuego at the southern tip of South America.
The paddling portion recently ended in Ladysmith, British Columbia, and after taking a couple weeks off, the group plans to begin the bike portion this weekend.
KTOO's Casey Kelly has more.
Before setting out, Kanaan Bausler was expecting the trip of lifetime. So far, he says it's been that and so much more.
"Basically, when people ask what's the best part of the trip, it's hard to say, because it seems like almost every day we were saying, 'This is the best day of the trip,'" Bausler says.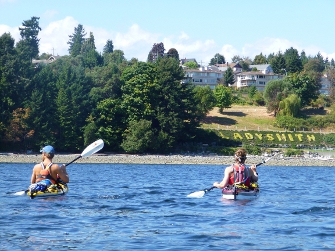 After leaving Juneau in their kayaks on June 1st, the group spent almost a hundred days on the water before reaching Ladysmith, British Columbia earlier this month.
Bausler is spending the time between the kayak and bike portions at Quest University in Squamish, BC, where he graduated last year.
He's using the downtime to put together a short video about their adventure so far. Some of the footage likely will be featured in a longer documentary about the trip.
"This film project has really turned out to be a great way of doing a trip like this," says Bausler. "Because it just gives us an excuse to go into these really unique places, and go out there and find the smartest person living there and just have a good excuse to have a deep conversation with them."
Bausler says a conversation with Kake village elder Mike Jackson had an especially profound effect on him.
"He was actually the very first person we recorded a conversation with," he says. "And it was very cool to hear all of the things that they use, both in food and he's artist and crafts-maker. So, he's constantly harvesting from the area and using those resources to maintain his lifestyle."
The core of the "Trip South" group consists of Bausler, Chris Hinkley, Andrew Flansaas, Colin Flynn and Max Stanley. The Funky Five as they call themselves were joined by about ten friends for portions of the paddling trip, as well as other boaters they met along the way. More friends and family undoubtedly will join for various legs of the bike journey.
Hinkley, who's currently on the Olympic Peninsula in Washington state, says the shift to biking will take some getting used to. But he's ready for it.
"I'm sure glad that I'm not going to have to unload that kayak and haul it up the beach every night," Hinkley says with a laugh. "So, kind of a different way of moving and it'll be a lot faster. All of a sudden we're going from ten miles a day to ten miles an hour."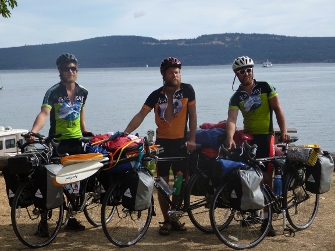 But Hinkley says the group doesn't plan to hurry. After all, part of the reason for doing the trip was to see the world at a leisurely pace, and get to know some new people along the way.
"I think everyone has a little bit of this experience when you go out travelling, it just seems you attract all these people and it seems like you meet more people than you might meet in your everyday life," he says. "I can't tell you how many times we were invited into peoples' homes to share a meal, and kind of just talk and share stories."
Hinkley says they hope to start the bike trip on Saturday.
The group plans to follow the Pacific coast all the way through North and South America. Several local companies, including Nugget Alaska Outfitter and Cycle Alaska have donated money and gear.
Link:
A Trip South