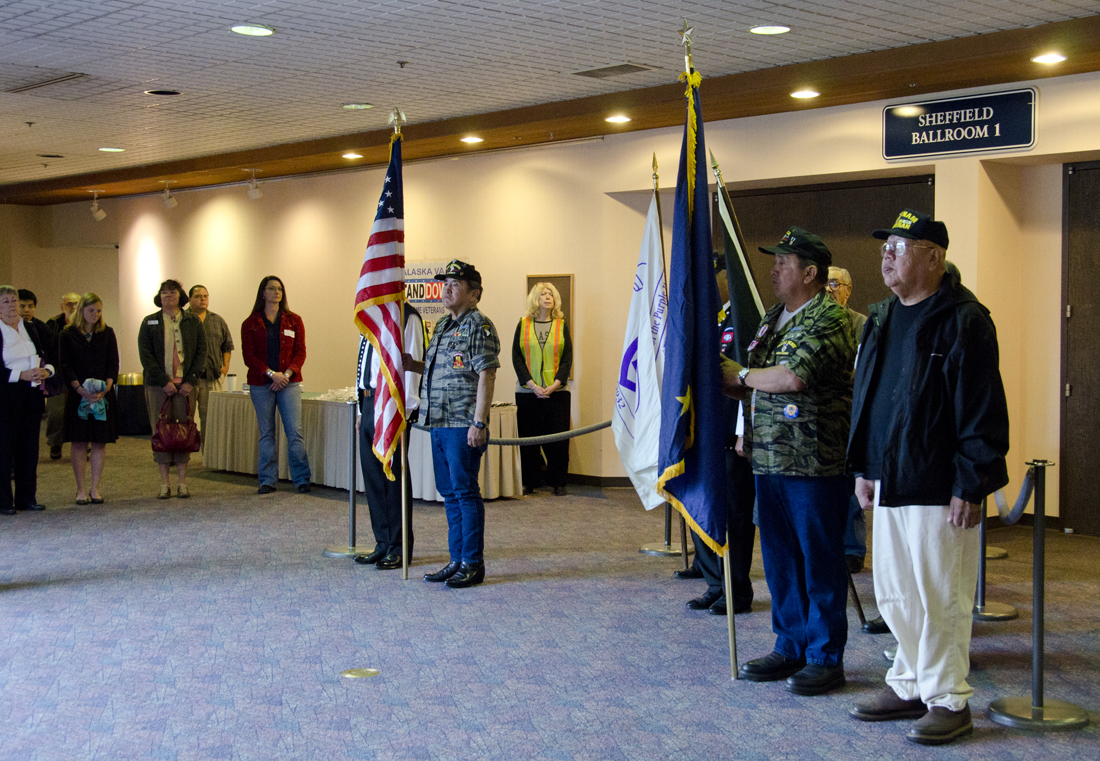 More than 800 military vets attended the U.S. Department of Veterans Affairs first ever "Stand Down" in Southeast Alaska last week.
"Stand Down" events are designed to give veterans access to health care and housing services, both from the VA and local nonprofits.
A new agreement between the VA and Alaska Native health care providers should make it easier for vets in rural Alaska to access those services.
Alaska VA Spokeswoman Marcia Hoffman-DeVoe says the agreement, signed in May, allows Native health providers to directly bill the VA for care provided to veterans.
"Even though we have probably the largest geographic area of any state, our veterans in Alaska will probably have the best access to either directly provided VA health care or care that we purchase from a community or Alaska Native provider," says Hoffman-DeVoe.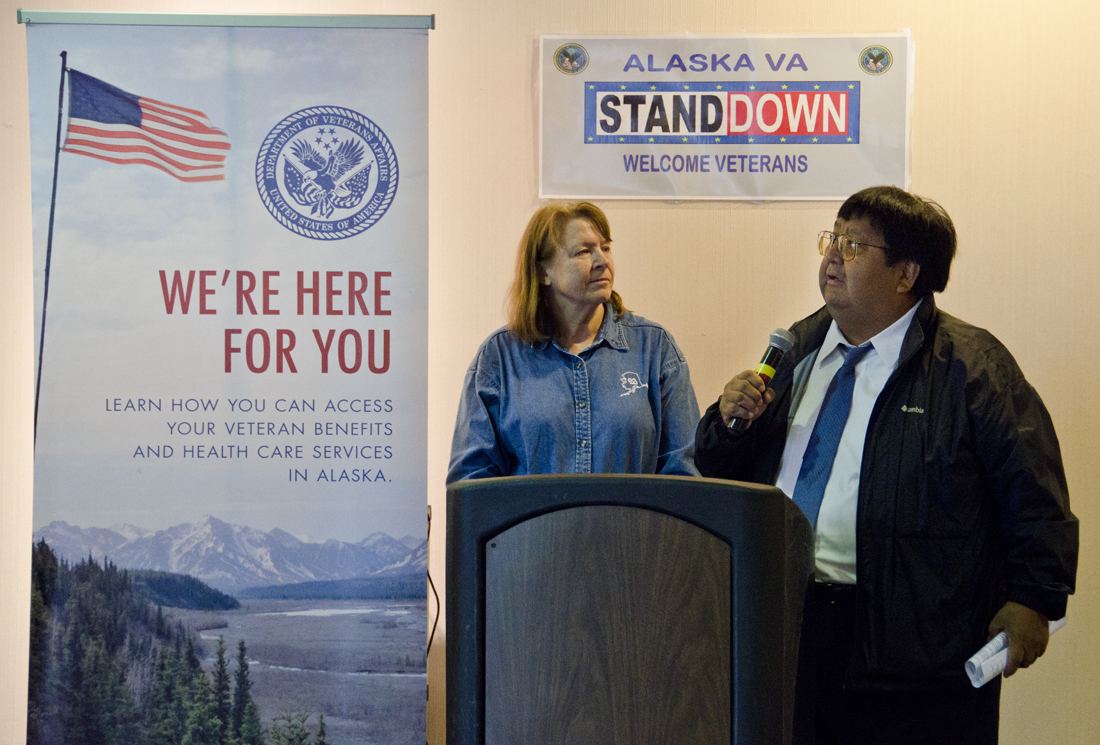 Lincoln Bean, Sr. of Kake is a board member for the Southeast Alaska Regional Health Consortium and Alaska Native Health Systems. He's not a veteran himself, but he helped negotiate the agreement, because when he was growing up, those who served were among the most respected members of his community.
"World War I, World War II, Korea, Vietnam, Afghanistan. And I kept hearing they're not getting the benefits they should be getting," Bean says. "And that's why this is happening today."
While Anchorage and Fairbanks have hosted "Stand Downs" for years, the event at Centennial Hall Friday and Saturday was the first one held in Southeast Alaska. It's part of the VA's effort to expand its presence in the state. The Southeast Native Veterans group opened the event with the Presentation of Colors.
Tony Mills is an Army vet from Hoonah, who served during Vietnam. He says he's had issues with the VA in the past. During a visit to a VA clinic in Anchorage in 1998, Mills says the doctor didn't even know what branch of the service he'd been in.
"He said, 'How long were you in the Marine Corp?' I told him, 'Marine Corp? I never was in that Marine Corp,'" Mills says. "I told him I got drafted into the Army."
Mills says he's glad to hear about the new sharing agreement, which he plans to take advantage of at the SEARHC clinic in Hoonah. He also says the two-year-old VA clinic in Juneau's Federal Building should make it easier to access the medical tests he needs.
"I'll be coming back this coming Wednesday for the hearing test over here. I guess they're gonna have it up on the sixth floor," he says. "And the Coast Guard doctor from Mt. Edgecumbe [Hospital], he came over, and he's the one who got me going on this."
"Stand Down" events date back to Vietnam, when frontline soldiers would rotate to a safe and secure area for hot meals, medical treatment, and new uniforms. Traditionally, non-combat "Stand Downs" focus on homeless vets and vets in need.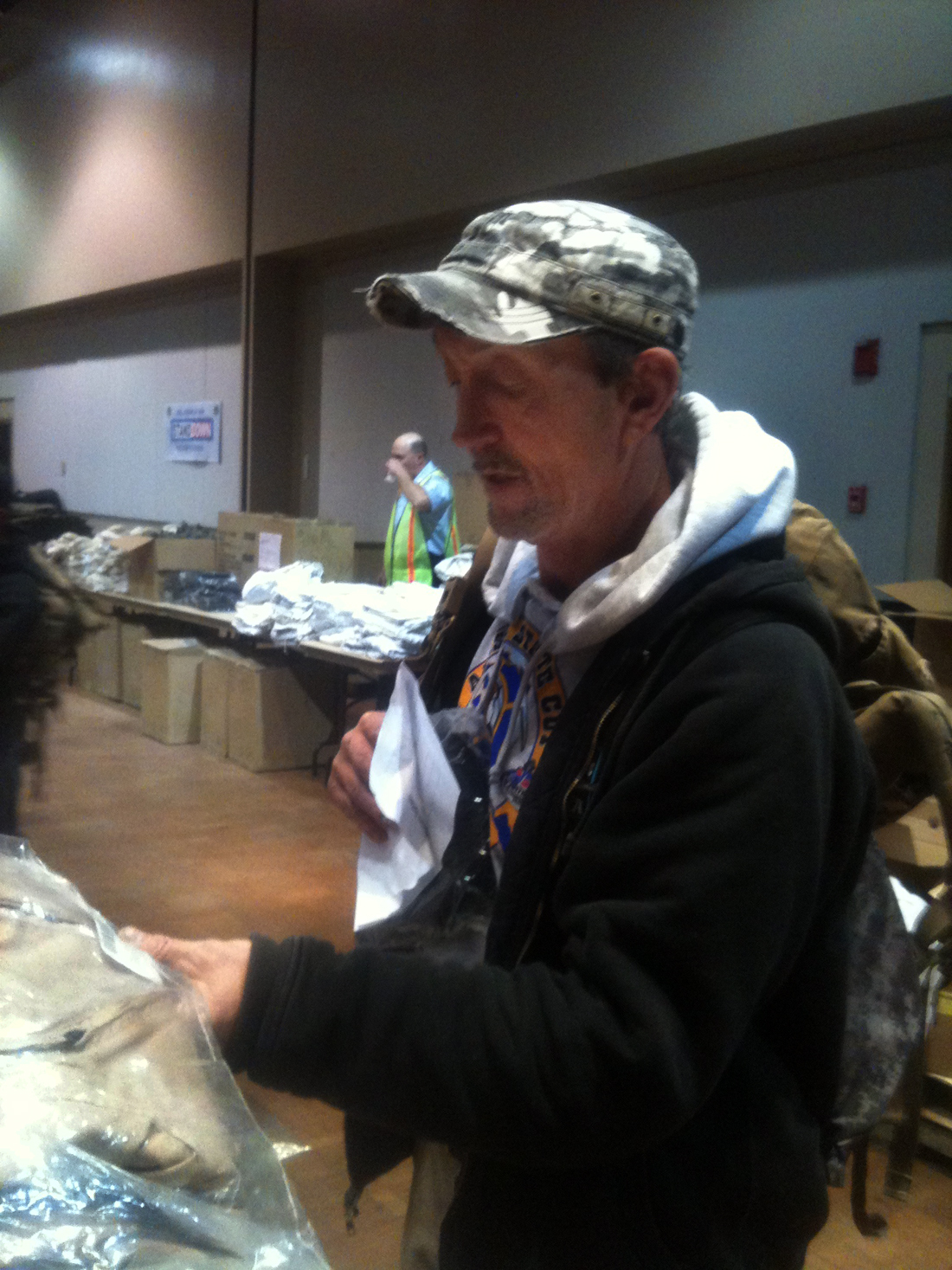 The VA brought two semi-truck loads of military surplus gear to Juneau for the Southeast "Stand Down." Socks, underwear, jackets, backpacks and other supplies filled one of the ballrooms at Centennial Hall, available to any vet who needed something.
Ex-Marine Dan Roberts came looking for a new sleeping bag.
"I sleep on my boat and it gets kind of chilly now, because I don't use my heater at night," Roberts says.
As he collected his new sleeping bag from a volunteer, Roberts talked about how much it and all the other supplies mean to him.
"Shoes, bag, sleeping bag deluxe, and other clothing, socks and underwear, you name it," he says. "I'm overwhelmed."
For those veterans who couldn't make it to the "Stand Down" in Juneau, the VA arranged for gear to be shipped to smaller communities throughout Southeast. The VA's Marcia Hoffman-DeVoe says the agency would like to see a local nonprofit organize it into an annual event.