This week, the famous Katmai bears got a much bigger audience via a new series of webcams that deliver the bears to your screen.
Katmai National Park and Preserve teamed up with Explore.org's Pearls of the Planet program to set up four live webcams around Brooks Camp.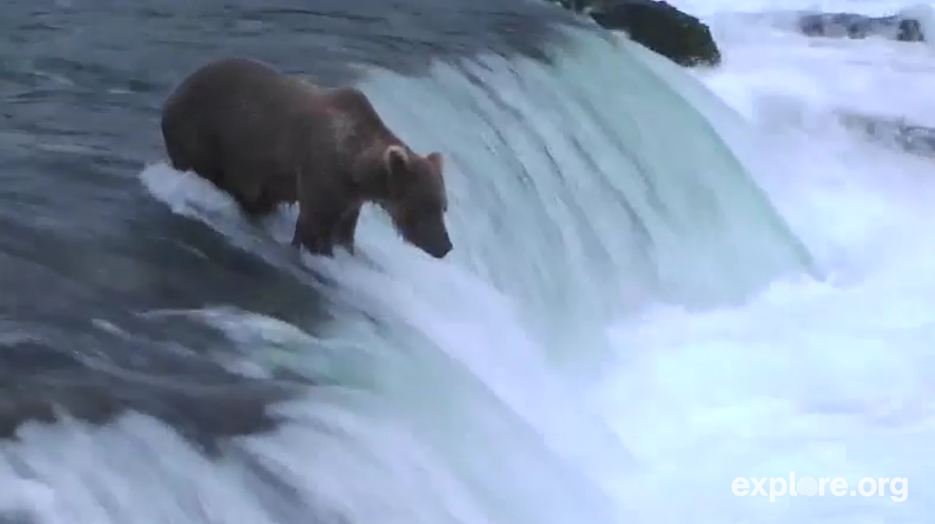 The cameras will deliver footage from four locations.
Roy Wood, the lead interpreter at Katmai National Park, says the webcams are a dream come true for the park which had been trying to install cameras since 2008.
When funding and staffing put the plan just out of reach, the idea didn't go away though.
"That idea was still lingering there. We felt there was this demand for seeing the bears and that people would really enjoy it and it would be somewhat enlightening and educational for people to be able to watch the bears day in and day out as they struggle to survive here in the park," Wood said.
Wood's idea is shared by Charles Annenberg, the creator of Explore.org. Annenberg is an avid filmmaker and adventurer. He started Explore as a philanthropic multimedia organization that shares live video and documentaries from around the world. Annenberg describes the organization's mission as championing the selfless acts of others, creating a portal into the soul of humanity and to inspire lifelong learning.
Annenberg said that the live cams at Katmai have always been a dream of his.
"You're really in the most pure intact ecosystem environment you can be in right there at Katmai. I mean you're really at nature working at its most harmonious self, uninterrupted. And that's really what's at stake in Alaska. You have this land that's probably as raw and pure as it gets," Annenberg said.
This past winter Explore approached Katmai Park about teaming up to install the cameras and plan the interactive web presence that accompanies the video streams.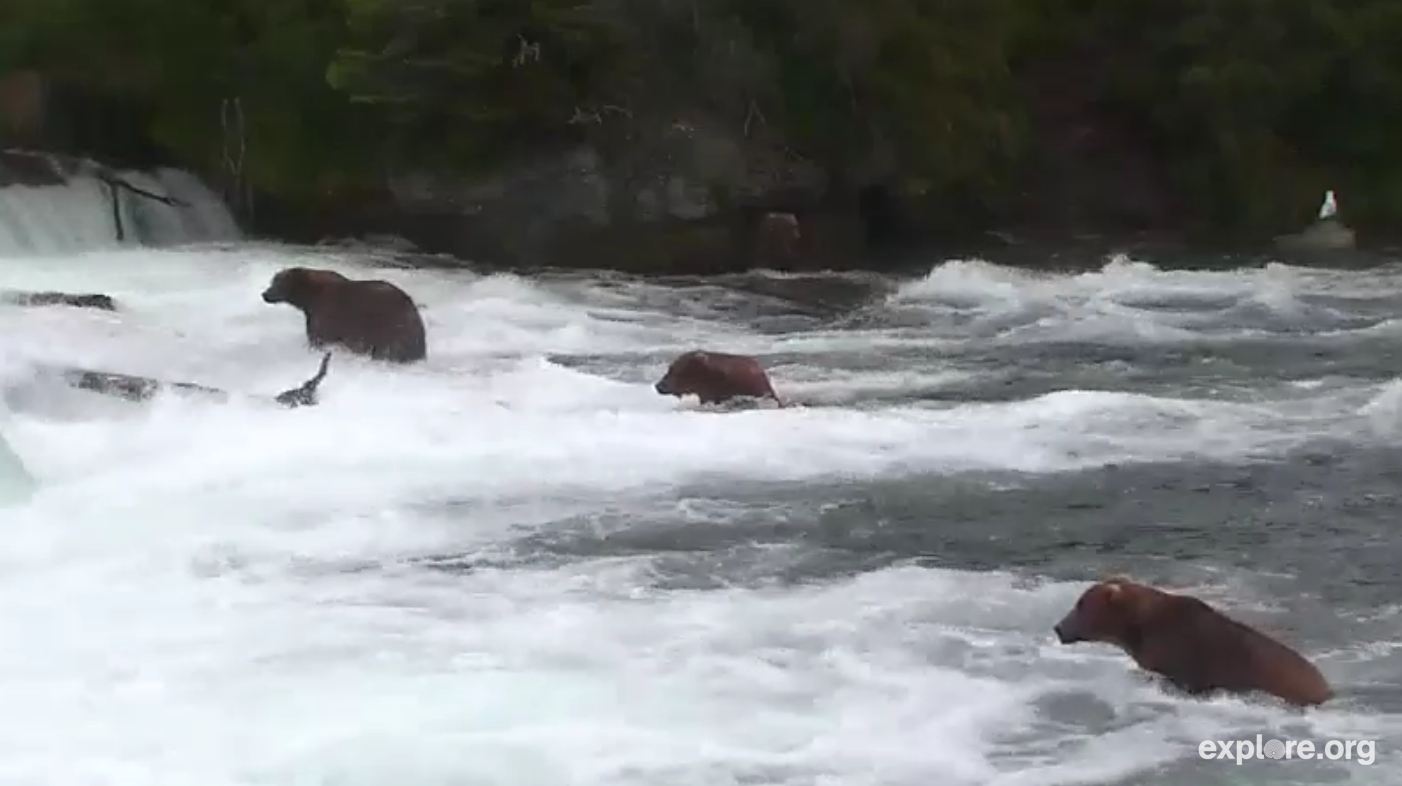 "It was just truly one of the greatest days of my professional career. I had been struggling with this for years and to get this call out of the blue saying hey we got this idea and we're interested to know if you're interested in it as well. So it was a partnership match made in heaven," Wood said.
Annenberg accompanied the crew to Alaska for the installation of the cameras last week.
Wood describes the system as a spectacular feat of technical engineering that doesn't disturb the bears or the environment. Explore hired a team of engineers to install solar powered systems in a number of locations and built a system to transmit the video signal to King Salmon.
The videos went live online Tuesday.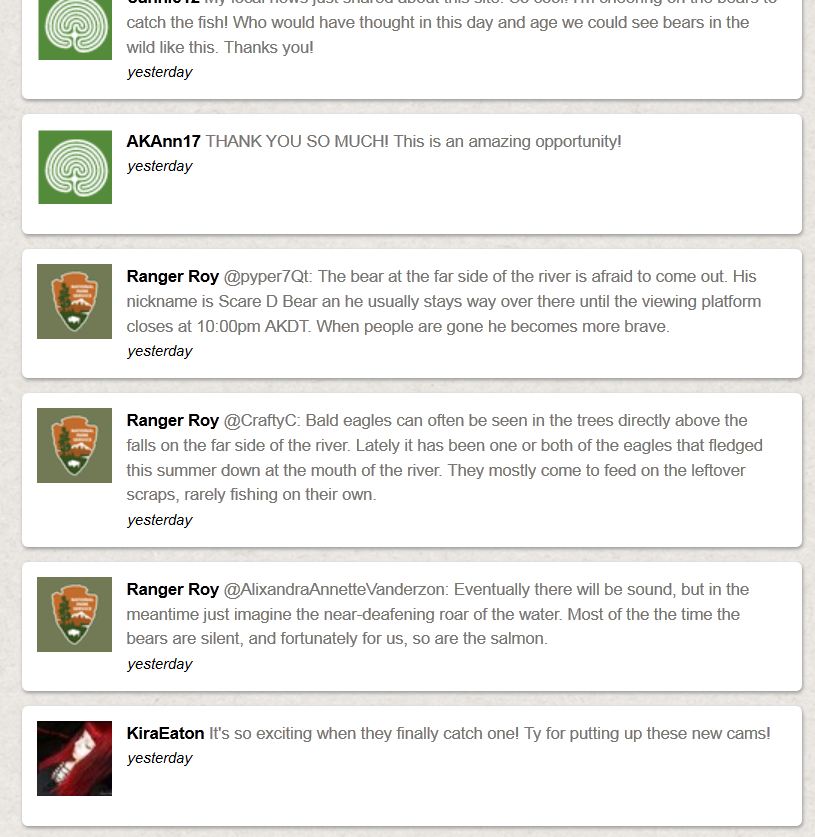 Wood is happy with the response that the project is getting both from online visitors and those in the park.
Visitors to the site have already left hundreds of comments. Wood says the excitement is shared by visitors in the park as well, who look forward to using the live cam to follow the bears they've connected with in person.
"Ultimately, our goal is to provide more than just a novelty experience of watching a bear and to go beyond that by scheduling periods of time where rangers will be doing live chats with the public at large or with individual classrooms around the country or the world where they could ask us questions about what we're seeing," Wood said.
There are no roads to Katmai Park. (Map) Getting there requires first getting to King Salmon by plane or boat and taking a charter to Brooks Camp. Visitors can camp or stay at the lodge but space is limited.
"The majority of the people on the planet cannot afford the time or the money to make a visit to Katmai, and that doesn't mean they're not interested in learning about the bears, the salmon, and this magnificent landscape. This is a way of opening that up to everybody, pretty much regardless of their location or their financial means," Wood said.
The website will run the video 24 hours a day and the project is being completely funded by Explore. Visitors to the site won't see any advertisements or corporate sponsorships. Annenberg said that's just the way he wants the site to be. He wants visitors to the site to have a pure experience with a site that is just about observation.
"I know it sounds corny, but I hope it's gonna just kind of make you fall in love with the world again. Because when you develop an emotional connection everything else takes place," Annenberg said. "We live in such a culture where you're almost told you're not a good person if you don't give money. But really what they forget is the real value is the investment of emotion and time. So just by reconnecting with nature through technology and observing these bears and these moments. I believe you're going to become a better steward of this planet."
You can view the live cam at Explore.org. The site also features a number of other live cams of osprey, pandas, and polar bears as well as documentaries and photo galleries.