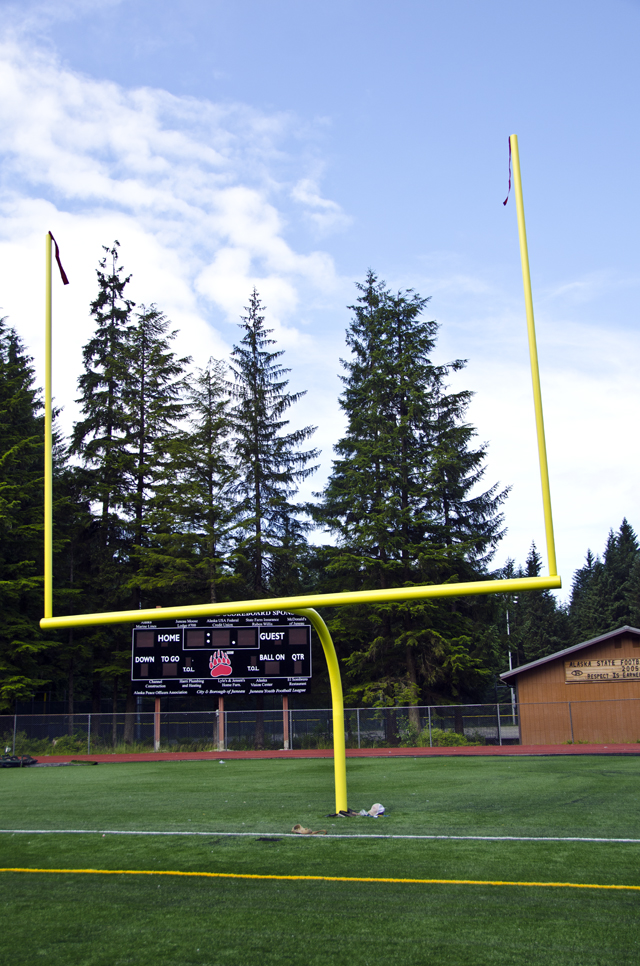 The goal posts are up and games will soon be played on the new turf field at Adair Kennedy Park in Juneau's Mendenhall Valley.
Adair Kennedy field is the home of the Juneau-Douglas High School Crimson Bears and Juneau Youth Football League.
The project is only a few days behind schedule, despite arson that destroyed specialized equipment and materials last month, as well as lost days of work due to rain.
Rosemarie Alexander was on hand for nearly every phase of the process, from tearing out the old turf to completing the new.
It didn't take long to tear out the 12-year-old turf, which was long past its prime.  And when the field fell victim to arson last year, it seemed an easy decision to replace it.
CBJ Project Manager Catherine Wilkens says sports field technology is constantly changing.
"If you have a field that's two or three years old, they sort or refer to it as the last generation.  A field that's ten years old, I don't even know how many generations back that would be, but it would be considered very out of date," she says.
So what's different since the generation installed in the year 2000?
"It's the nature of the backing which is the big change," Wilkens says.
Adair Kennedy field sported the first artificial turf in Juneau.
"The other one had sort of a looser fiber to allow it to drain straight through," she explains. "This actually has little holes punctured, which should be allowing better drainage."
And while that first field was well-drained, the system needed work.  The outfall pipe has been cleaned and a catch basin installed.
"So it's just the carpet on the top basically that's being replaced. And we think it will last longer than the last one did," she says.

Replacing the carpet is hardly basic.  The intricate cutting, sewing, and gluing process has been done by Shaw Sportexe, one of only a few companies that specialize in synthetic turf fields.
Juneau field superintendent Eric Pratt has been "everywhere, anywhere they want to send me.  I've been as far as Istanbul, Turkey."
Pratt was part of the Shaw team that put in the JDHS practice field in 2005.
In his job he's installed "miles of turf, miles upon miles."
Pratt begins by sewing turf sections together.  The industrial sewing machines are so specialized that he travels with three.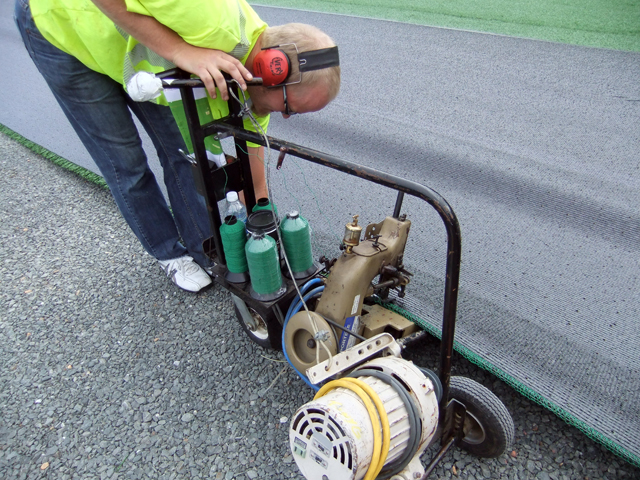 Since mid-June, Jacob Graves has been watching every step of the field installation.  He's the inspector on the job, the eyes and ears for the city and borough, and R & M Engineering.
"It's not as simple as planting grass," Graves says. "This thing's sewed together like a quilt."
Once it's sewn, the hash marks, numbers, yard lines and other symbols are cut in and super-glued.  The Shaw guys have developed terms for that gluing process: "smooshing" and "sprooging."
"Right now the glue is smooshing underneath the number and the turf," says Brodie Jacobson, gluing down a very large zero. "So it's smooshing. "The glue needs to kind of come up and over the turf and the number so that it gets a good grip on it when it dries."
 Next comes the rubber infill.  The Shaw crew arrived with a Turfco spreader, but on June 19th, it was burned in an arson fire, along with all the glue and sealing tape.
"It was the first time to have that happen," says Dave Herbert of Shaw Sportexe, who says he has worked on artificial fields in every state but Idaho.
A new Turfco spreader had to be sent to Juneau to finish the project.  When it arrived, "we took it away from here," Herbert says. 

Then last week it came out of safekeeping to disperse the rubber crumbs according to "a certain [number of] pounds per square foot that's specific to each field,  basically," Shaw field superintendent Pratt says, as he's about to brush in the rubber with a special machine called LaMore.
It's just a matter of dropping the rubber down in layers, nice even lifts, is what we call it, and then brushing it in so it drops down in between the fibers," Pratt says. "And that's it, that's the magic to it."

Pratt and his crew have wrapped up their magic.  They've put the finishing edges on the new artificial turf and are heading to another city; another field.
Throughout the project CBJ's Wilkens has not missed a step and says the Shaw crew "really know their stuff."
Soon Juneau kids will take to the field, which is courtesy of their voting parents, who agreed last year to allow the city to sell $1.19 million in bonds to pay for it.  The state of Alaska will reimburse Juneau for 70 percent of the construction costs.
Related Stories:
Three charged in last month's arson at Adair Kennedy field
Damage mounts from turf field vandalism
Update: Torched turf equipment leaves project behind schedule