You're invited to a party at the Governor's House today. It's the celebration of the house's 100th anniversary. There will be music and refreshments on the north lawn as well as guided tours of the house's first level.
The mansion, officially known as the Governor's House, underwent a recent renovation aimed at preserving and sprucing it up for its 100th anniversary. Work included peeling away paint, repairing stucco and resurfacing columns around the house.
Gov. Sean Parnell's office says all former governors and their families were invited; former Govs. Bill Sheffield and Frank Murkowski are expected to attend.
Sheffield also is expected to speak, as is former state Rep. Clark Gruening, whose grandfather, Ernest Gruening, was governor from 1939-1953
Parnell is the 22nd governor to live at the house, according to Carol Sturgulewski, who wrote a book on the mansion and provided notes for the guided first floor tours that will be offered Thursday.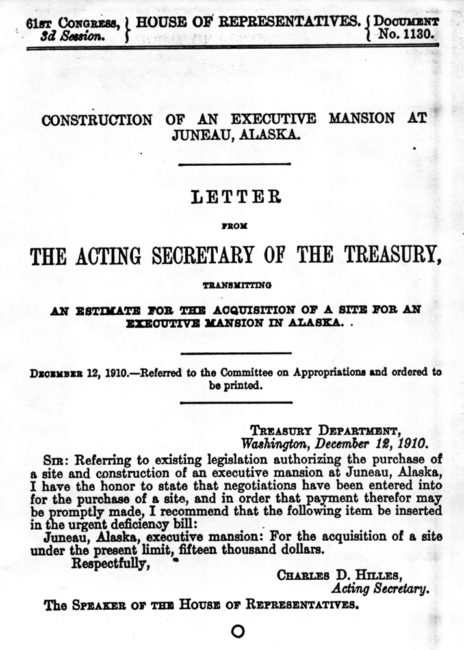 The house was built in 1912 when Congress set aside $40,000 for the construction.
Federal architect John Knox Taylor designed the house.
However, it wasn't owned by the state of Alaska until 1959. Before that it was under federal control.
It was completed in time for its first public event, an open house on New Year's Day in January of 1913.
The first floor is the public part of the house for dinners, reception and scheduled tours. Most people visiting the mansion do so during the Governor's Holiday Open house, the largest public event of the year.
The house fills 14,000 square feet comprised of 25 rooms over three floors.
The totem outside the house stands almost as tall as the house and is nearly as old. It was carved in the winter of 1939 as part of a Civilian Conservation Corp Project.
The house has undergone a number of renovations and changes.
In 1936, additional columns and a portico were added.
1983 saw the interior being renovated to restore the original and historic look of the house's interior. The governor at the time, Bill Sheffield had the entire house renovated, making the most changes to the house since its original construction.
The house is listed on the National Register of Historic Places, a title it's held since 1976.
"This is the people's house. This house belongs to every single person in Alaska," Nancy Murkowski said in the 2005 documentary about the house.
The public is invited to the celebration that will take place at 4 p.m. today.