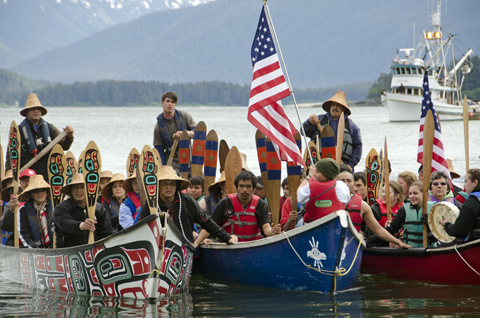 Several hundred people welcomed seven canoe teams Wednesday who paddled to Juneau for Celebration 2012.
The biennial cultural event begins today (Thursday). It brings together Southeast Alaska Natives from all over the state, the Lower 48 and Canada to share their art, dance and stories. This year the SouthEast Alaska Regional Health Consortium (SEARHC) joined with the One People Canoe Society and other canoe teams to paddle to Celebration. The teams also used the stops along the way to raise awareness about suicide prevention.
The first teams left Kake on Saturday for Angoon, where another canoe team joined them. On Monday, a team from Hoonah joined in Funter Bay. They camped along the way, spending Tuesday night at Portland Island for the short paddle yesterday to Juneau's Auke Recreation Area.
About 90 people made the trip and came from Angoon, Hoonah, Hydaburg, Juneau, Kake, Sitka, and Wrangell. They ranged in age from 10 to 70, and all seemed to relish the traditional mode of travel.
Rosemarie Alexander was at Auke Rec when the canoes paddled to shore, and spoke to observers & paddlers about the significance of the journey.