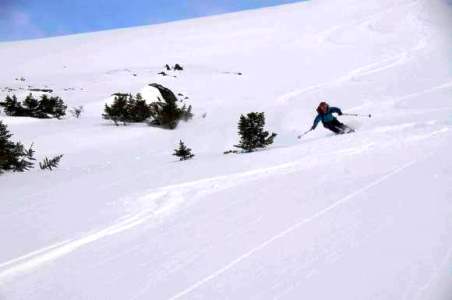 A young Juneau woman and four other Americans are on their way home from a six-week tour of British Columbia's remote Sacred Head Waters to raise awareness of potential development.
Twenty-four-year old Julia Nave is among four 2010 Colorado College graduates, who – armed with cameras, notebooks and a Young Explorers grant from National Geographic – have been exploring the wild headwaters of the Skeena, Nass and Stikine international rivers, considered endangered by some scientists, conservationists, and local communities.
"Part of our skiing trip is to document the winter landscape and to also just try to connect to the area and explore what it has to offer as far as winter recreation and other potential uses," she said as the team left in mid-February for their adventure. "In British Columbia there's a lot of awareness about the area and the local people are very aware of what's happening."
Back-country skis were the preferred mode of transportation. But Nave says the first 62 miles of hauling in gear were just a slog.
"It really felt like a pilgrimage, sort of, to a land we'd never seen," she said Monday from Hazelton, B.C., where she was boarding a train for Prince Rupert to catch an Alaska state ferry to Juneau.
Much of the area the group explored and skied is Tahltan Indian territory, some of it slated for mining and oil and gas development, and made even more complicated by land disputes.
"And (there's) a lot of still disputed land between Tahltan and the Canadian government. And the oil and gas companies, mining companies, who are going to bring in a lot of money with their mineral tenures, just adds another piece of complication," she said.
First Nations people depend on the salmon from the rivers, and the Tahltan have been actively protesting some of the development. After interviews with elders and local conservationists, Nave says it's clear they are not anti-development, but want it "done right."
Forest ecologist Dr. Jim Pojar, of Smithers, B.C., has said the dash to the B.C. transboundary region is like a "gold rush mentality." He's among scientists who have petitioned the B.C. government for better control of resource development in the region, where the rivers support all five species of Pacific salmon that sustain Alaska and British Columbia commercial, sport and subsistence fisheries.
Nave says the winter explorers of the Sacred Headwaters will turn their stories and pictures into a film for National Geographic and blog discussions for other sponsors.
Right now, after camping most of the last six weeks, she's just looking forward to sleeping in a real bed.
Nave is a 2005 graduate of Juneau-Douglas High School and a former Juneau ski racer.