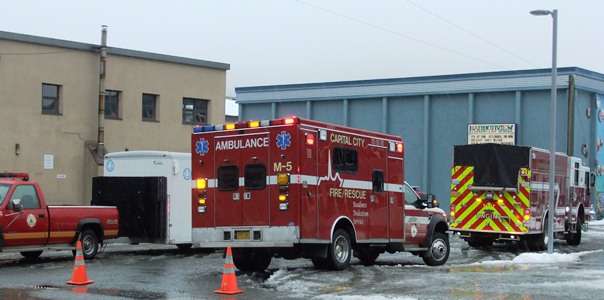 Juneau School District offices were evacuated early Wednesday afternoon after an employee opened an envelope containing a suspicious white powder.
Juneau Fire Marshal Dan Jager says the envelope was in the day's mail that had been delivered to the facility at the corner of 12th and Glacier.
The Capital City Fire and Rescue hazardous-materials team was in the building this afternoon.
"We have the haz-mat team that is inside collecting it for evidence," Jager says. "We're going to send that to the state crime lab to verify if the power is anything or not."
Jager says it will take at least a day or two to get the results from the crime lab in Anchorage. "So our plan from here is to take it, package it, take it to the airport and have it Gold Streaked up, so they get it as soon as possible," he says.
School district spokeswoman Kristin Bartlett says many employees went home around noon and the rest were evacuated about 2:15 p.m. She says district employees will return to work Thursday morning, but the room where the envelope was opened will stay quarantined until the white powder is identified.
Fire marshal Jager says the Juneau haz-mat team also has been called to Thorne Bay, where a white powder was received in the mail.