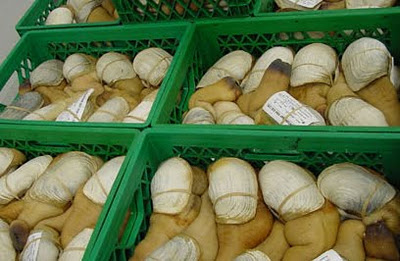 Legislation allowing geoduck farming to expand north and west is moving in the state Senate.
The measure would allow the large, valuable clams to be grown north of their natural realm. That ends around Juneau.
It would permit geoduck farms in Yakutat, Prince William Sound, Kodiak and other locations. Kachemak Bay is exempt because it's been designated a critical habitat area.
"House Bill 60 works on trying to promote economic development around the coast of Alaska," said Homer Republican Representative Paul Seaton, the main sponsor.
He described the measure to the Senate Natural Resources Committee on Monday.
"It is very difficult to get a new economic base in many coastal towns, especially those that will not conflict in time with salmon and herring fishing," he said.
A version of the bill introduced five years ago raised concerns among some biologists and lawmakers. They worried the large clams could become an invasive species, competing with other shellfish and ocean life.
But Seaton says geoducks will not spread outside farm areas.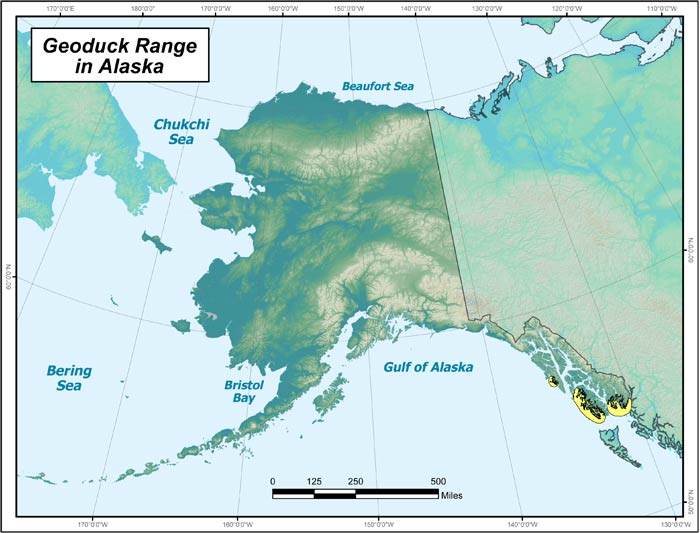 "And the probability is that since the water has to be warmer before they will spawn, that they'll be just like oysters up in Kachemak Bay where they never reach a temperature to spawn. And so we're not talking about a proliferation of the species," he said.
The stationary filter-feeders are farmed in subtidal areas. Larva, from a hatchery in Seward, are planted in the ocean floor and feed on their own. They need about seven years to mature, and could take longer in colder waters.
Southeast farmers recently began selling geoducks on the open market. They're taking advantage of prices of more than $20 a pound. Larger farms raise and sell geoducks in British Columbia and Washington State.
Paul Fuhs of Sea Farms Alaska wants the same thing to happen along the Gulf of Alaska.
"If you pass this it's not going to be a wasted effort. We would go immediately to a research permit, go in and get some in the ground and see how they grow, mortalities and things like that. We don't have any experience with it yet, but they're growing in Resurrection Bay water right now from the hatchery … so I don't see any reason that shouldn't work," he said.
Seaton's bill passed the House last year, but was not heard in the Senate until Monday's hearing. After hearing about the bill, the resources panel moved it on to the chamber's Finance Committee.
Behind the scenes of geoduck farming with Washington state's Taylor Shellfish Farms, the biggest geoduck farmers in North America. Taylor's farm is intertidal, while Alaska farms are subtidal.