The second session of the 27th Alaska State Legislature begins Tuesday. The House of Representatives will gavel in at 1 p.m. The Senate comes in at 1:30.
Juneau will formally welcome legislators Wednesday at a Centennial Hall reception from 5 to 6:30 p.m. At 7 p.m., Gov. Sean Parnell will deliver his annual State of the State Address.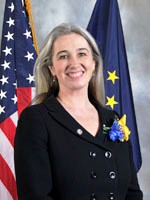 Juneau Republican Rep. Cathy Munoz says she's glad to be back to work.
"Looking forward to having everybody back in town," she says. "We've developed really good camaraderie with people from all over the state and I'm really looking forward to seeing them again."
Munoz, Rep. Beth Kerttula, and Sen. Dennis Egan, both Democrats, work well together. At the start of the session, Kerttula says, they have a lot of optimism.
"It's one of the great things about Juneau and one of the great things about the beginning of session," she says. "Everybody does come in, I think, with a sense of optimism for the next year. You know that we really can join together to do good things for the people."
Kerttula is beginning her sixth year as leader of the House Democratic Minority. She expects oil and gas and retirement issues will be major policy arguments this session.
Kerttula has introduced one bill – HB 257 – which would give the Violent Crimes Compensation Board more flexibility to help cold case victims.
"That kind of pain doesn't go away and it shouldn't matter whether the case gets resolved one week after the crime has happened, or 10 or 20 years later," she says. "It's still important that the state and Violent Crimes Compensation Board can be there to help victims."
Kerttula says she was inspired to sponsor the bill after getting to know the mother of a victim of a case that was not resolved for many years.
Munoz also has introduced legislation this session inspired by Alaskans – naturopaths, pharmacists, realtors and homebuilders.
One bill sounds like it was written expressly for Juneau, with its lack of affordable housing. Munoz says HB 264 would let municipalities defer property tax increases after lots are subdivided.
"Once a developer comes in and subdivides land and puts in all the improvements – the sidewalks, water and sewer, — the city then reassesses that land at fair market value, according to state law," she explains.
Munoz calls that a disincentive. "The developer is taxed with this higher assessment immediately, even before the lots have sold," she says.
She believes if cities could defer the tax, it would encourage housing development.
Munoz and Kerttula's bills are among those filed prior to the start of the session and will be assigned to committees today.
Lawmakers now have 90 days to complete their work.