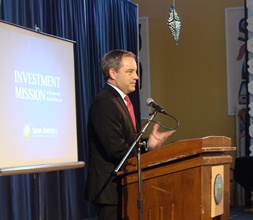 Outside forces – like the European debt crisis and turmoil in the Middle East – present both challenges and potential for Alaska's economy.
That's the message Governor Sean Parnell had for the Juneau World Affairs Council today (Monday), in a speech reflecting on his first trip overseas as the state's top elected official.
Parnell says he met business and government leaders on the trip, who called Europe's debt crisis "a potential global contagion." He pointed to the United Kingdom, where consumers buy more than 30-million dollars in Alaska seafood every year.
"They believe that if one of the countries in the EU defaults, cascading effect on the UK diminishes the value of their currency. That makes our seafood more expensive for them to buy, which means they will end up buying less of our seafood upon a default," says Parnell. "That's just one example of how this translates back to Alaskans."
But the governor says there are also opportunities in Europe. Many Eurozone countries, looking for a safe energy alternative to Middle East oil, are thinking of buying liquefied natural gas from the shale-rich Lower 48. Parnell says that opens up other markets to Alaska's gas.
"Kind of some interesting worldwide dynamics when it comes to gas," Parnell says. "But what it all pointed to was that Europe is going to need natural gas, which has a cascading effect on where other countries get their gas, including the Pacific Rim."
Recently Parnell has given more credence to the idea of an all-Alaska pipeline to Valdez, where a plant could make liquefied natural gas for export. But he also hasn't given up on the Alaska Gasline Inducement Act goal of a pipeline through Canada to the Lower 48.
Parnell visited London, the Netherlands, Rome and Israel on his overseas trip. He said the Israel portion was paid for by the Israeli government. The governor's Spokeswoman Sharon Leighow says the state will pay for the rest. In his opening remarks, Parnell said politicians need to make sure such trips have a tangible benefit. In this case, he said the benefit was the opportunity to promote Alaska products.