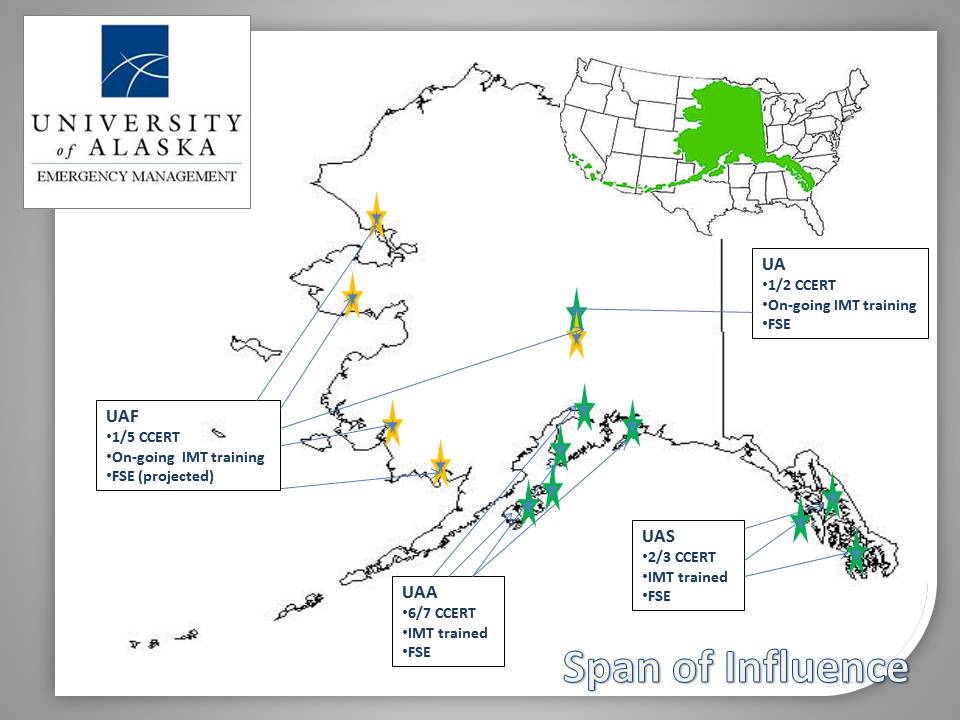 The University of Alaska Southeast will hire an emergency program manager next year for all three Southeast campuses to coordinate crisis response.
UAS Juneau has had a Campus Community Emergency Response Team since 2010. Hiring a manager for all three campuses is an outgrowth of last year's mock shooting that tested the team's response and coordination with capital city first responders.
Since then the groups have continued to train together, including last week at the UAS Recreational /Alaska National Guard Readiness Center.
Rick Forkel is Director or Emergency Management for the statewide university system and organized the class.
"If we train together and exercise together, when and if we have to respond to a significant event it will be a seamless coordination of resources and getting what is needed to the scene," Forkel says. That allows a quicker recovery from any potential hazard, he says.
The Fairbanks and Anchorage campuses have fire, police and emergency program managers. Headquartered at UAF, Forkel has been working with the Juneau campus response team. He says it's now time to have boots on the ground in Southeast. The future UAS manager would coordinate emergency response for the Juneau, Sitka and Ketchikan campuses.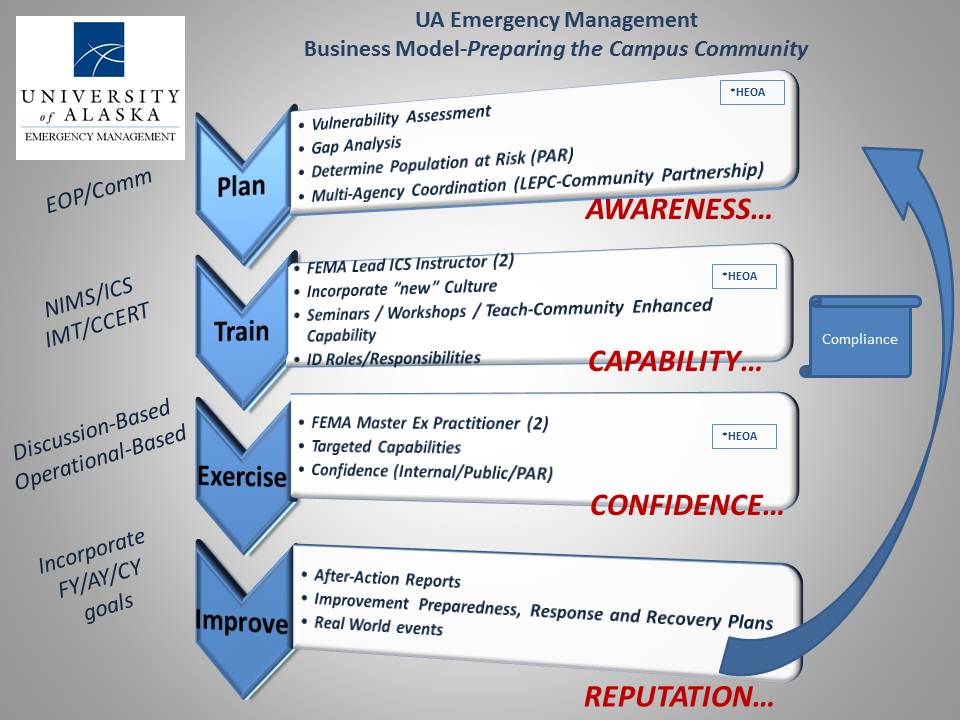 Campus teams would work with community responders in each town – like those in the Incident Command System 300 class – who came from Juneau public works, transportation, fire and rescue, and Bartlett Regional Hospital as well as the Alaska National Guard, U.S. Coast Guard, and National Weather Service.
Forkel says coordination and self-sufficiency are crucial, because eight of 15 University of Alaska sites can only be reached by plane or boat.
"Disasters will come and go, people will be hurt and property damaged, but if you have that training in place, it makes a huge positive impact on the outcomes of those events," Forkel says.
While emergency preparedness is nothing new, CBJ Emergency Programs Manager Tom Mattice says UA's statewide resources and facilities make it an important partner.
"It's just really been an exponential way to grow this community preparedness," he says.
Mattice and others at ICS 300 also train with public safety responders throughout
Southeast Alaska, where there are eight disaster shelters with eight medical caches and eight responder teams ready to deploy to support other communities.
"That's what we're trying to build not only at the local level but at the regional and state level," Mattice says.
University of Alaska Anchorage Police Lt. Ron Swartz is an ICS instructor, certified by the Federal Emergency Management Agency.
He says UA plans to take the training to all 15 campus sites so each one will be ready to respond to any community crisis, whether it's last month's storm that hit western Alaska, fire, earthquake, tsunami, or a search for a missing athlete.
UAA and Anchorage responders worked together on the recent search for cross-country runner Marko Cheseto. The 28-year-old Kenyan was missing for three days in the cold and snow. With little to go on, Swartz coordinated a ground and air search. He says it's a good example of the need for continuous training.
"The training and the coordination had already been practiced in advance. All we had to do was ask them to show up," he says. "We gave them a task and a set of objectives and they went out and did it."
A statewide exercise, called Alaska Shield 2012, is scheduled for February. It will be a mock weather event that creates different hazards in each region, ranging from tremendous cold in the Interior to heavy snow then rain and avalanches in Juneau.