A Ketchikan House candidate faces a sizable penalty for campaigning without registering.
An Alaska Public Offices Commission attorney recommends fining David Scott $2,357. That's because he sent out emails announcing his election plans without filing the proper paperwork with the state.
Scott is a former chief of staff for the incumbent in the seat, Representative Kyle Johansen. The Republican, now chief of staff for Nome Democratic Senator Donny Olson, announced his candidacy on Alaska Day.
He sent emails to the media, plus another Ketchikan Republican,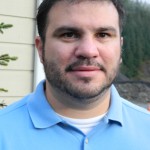 who forwarded it to party members. At the time, he said he planned to work the upcoming legislative session, which meant he would not file until after the legislature adjourns. That's because legislative staff have to quit before running for office.
In a report to the commission, APOC attorney Martha Tansik recommends he be charged a $700 fine, plus$1,657 in staff costs. That adds up to $2,357 in civil penalties.
Calls for comment were referred to APOC Executive Director Paul Dauphinais, who said staff concluded Scott violated state statute.
"For Mister Scott, it appears that he had an expenditure in announcing his campaign and did so before he filed either a letter of intent of candidate registration or put his name in nomination," Dauphinais said.
Question: "Does the commission have a rule or the state have a rule that says sending an email is an expenditure?"
Dauphinais: "Yes, the commission has set a precedent where sending an email is considered an expenditure, even if it is de minimis (a legal term for minimal)."
The full commission will decide whether to levy the entire recommended fine.
Scott also could not be reached via phone and email. But in an earlier interview with KRBD, he said he did his best to follow the rules.
"I had no intent to try to skirt any ethical barriers or campaign laws, which is why I was in contact with the ethics committee before hand, before I did the press release. So I used my own private time. I did it after 5 o'clock. That's why I used my own private computer. And I released the press release on a state holiday," Scott said.
His written response to APOC's complaint notes that he sent another email, rescinding his candidacy announcement, after agency staff told him he was in violation of campaign laws.
He also said he realizes he should have contacted APOC before sending out the first announcement.
The APOC report also questions whether Scott has actually ended his campaign. It cites a KRBD report where he indicates he still intends to run for the House.
Incumbent Johansen is seeking election to a reconfigured Ketchikan-based House district. Wrangell Representative Peggy Wilson and Ketchikan Visitors Bureau Director Patty Mackey have also filed for the Republican primary.
Ketchikan City Council Member Matt Olsen will run as a Democrat.