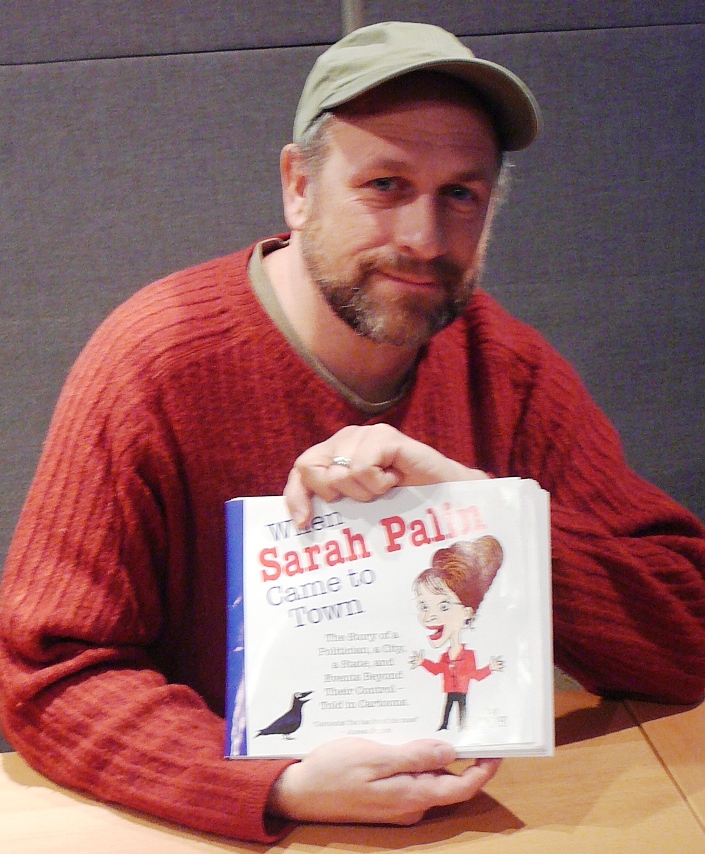 A capital city artist has just released a book of his Sarah Palin political cartoons.
Tony Newman's work is as much about Juneau and Alaska as it is about the former governor and vice presidential candidate.
We sat down with the award-winning cartoonist, whose work is published in the Juneau Empire, to learn more about his political art.
Newman flips through his new book and stops at an editorial cartoon from the fall of 2009. It's inspired by Palin's appearance on the Oprah Winfrey Show, where she said Levi Johnston, the estranged father of her grandson, would be welcome at her family's Thanksgiving dinner.
"It was at the same time that he was mulling over posing in Playgirl magazine. So I have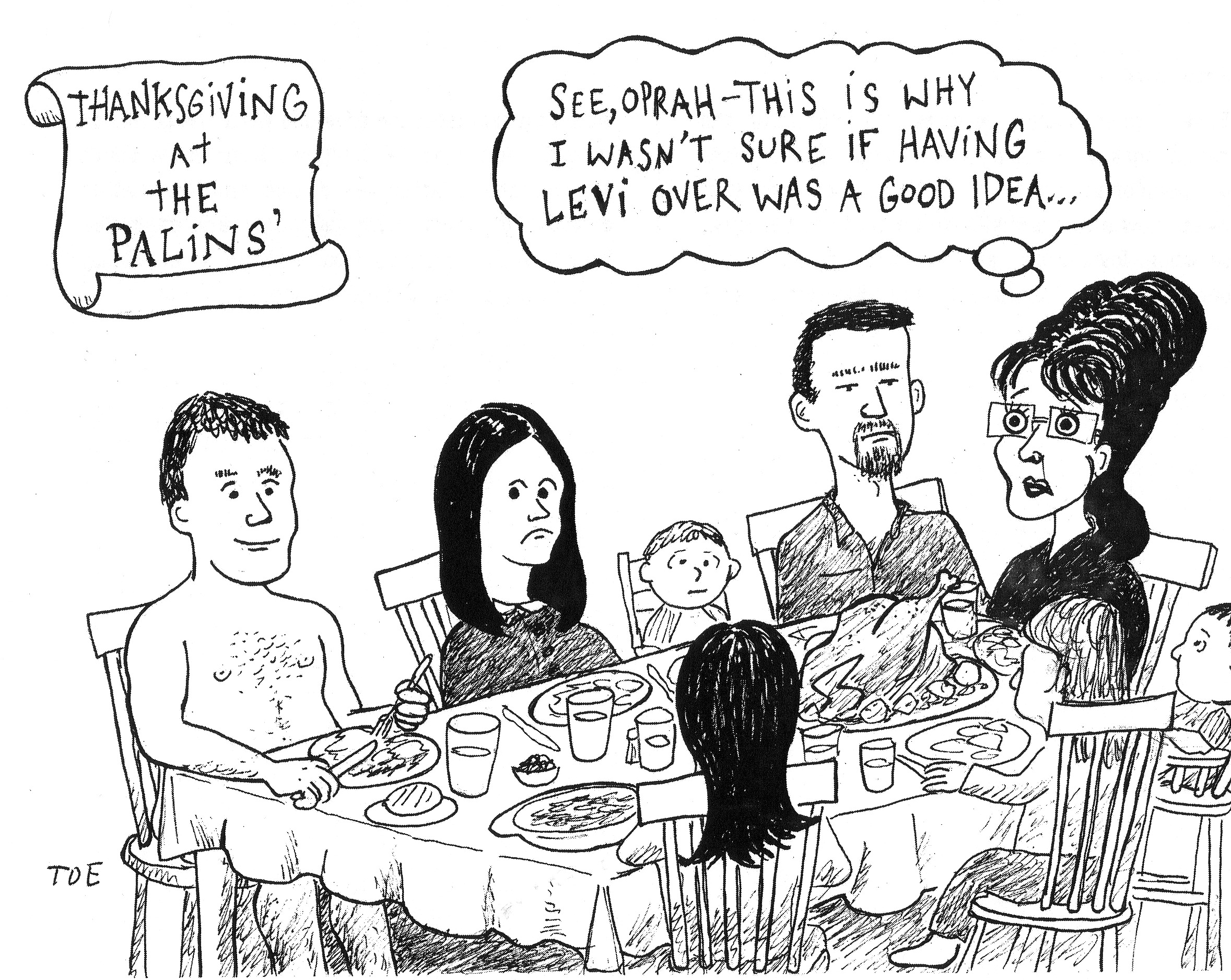 him sitting down for Thanksgiving dinner with the Palin family, and he's not wearing any clothes. And she's thinking to herself, 'Oprah, this is why I wasn't sure having Levi over was a good idea'," he says.
That's just one of the many scenes set in Newman's book, called "When Sarah Palin Came to Town." (Click on cartoons for a larger image.)
It's history as well as comedy, beginning with her 2002 try for lieutenant governor. That was the year Frank Murkowski topped the GOP slate, and the book also chronicles his administration.
"When Sarah Palin came in, I didn't think there could be any more color than Murkowski provided. But obviously, as events turned out, it was a pretty exciting and dramatic time for Alaska," he says.
Most of Newman's cartoons first appeared on the editorial page of the Juneau Empire newspaper. Others were created just for this book, to fill gaps in the story.
He had no trouble coming up with the images.
"As far as being a subject to draw, she's fun. She's got big, big dark eyes and that mountain of hair that she likes to pile up on top of her head, surrounded by the thin-frame glasses," he says.
Newman starts out portraying Palin as an outsider challenging the political establishment. That changes as she becomes more controversial.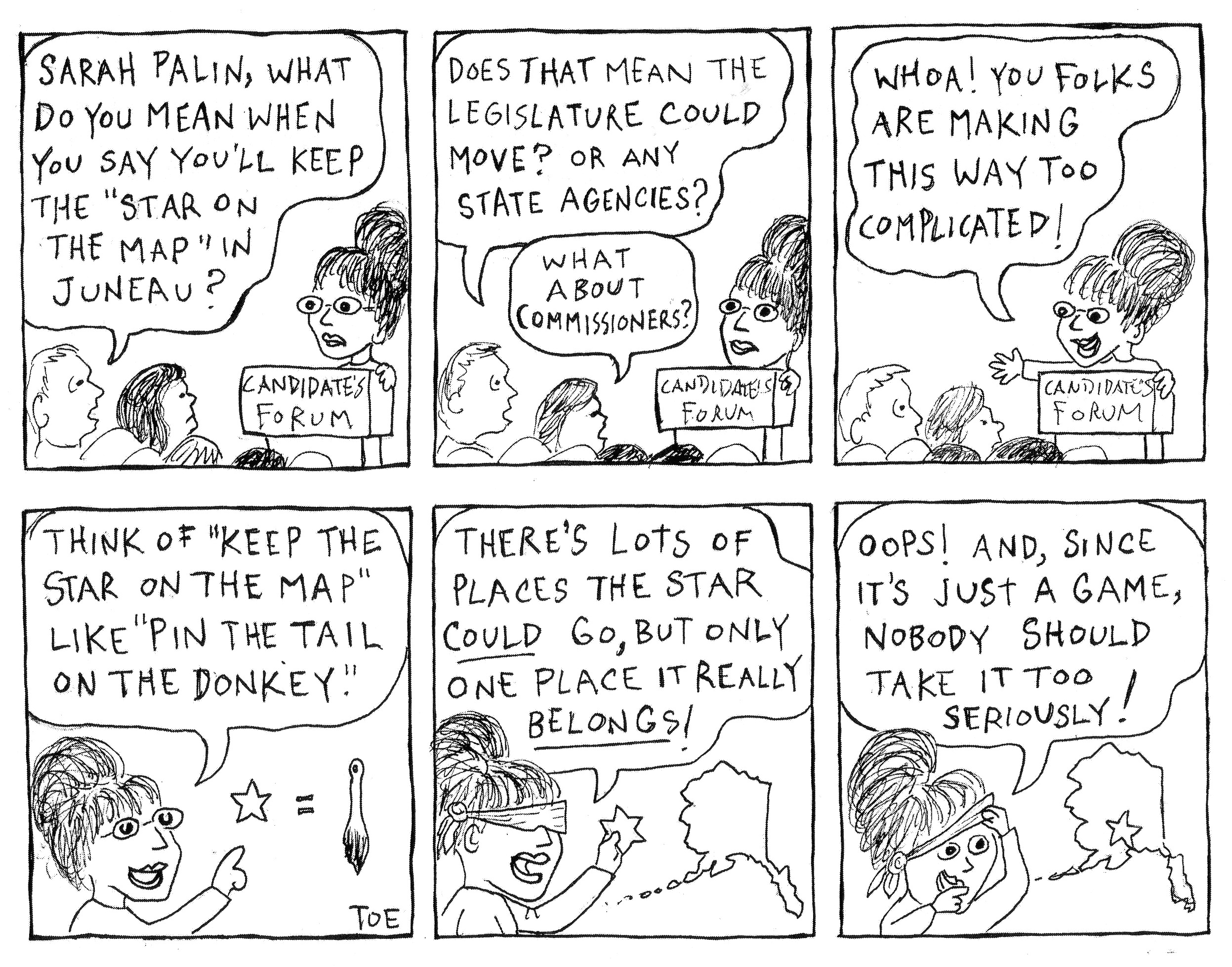 "It seemed to me that as she got a little older, and a little harsher, and a little bit more well-defined in her views, I think that my lines that I used to draw her became a little sharper and a little more angular, a little more pointed," he says.
Newman signs his political cartoons as "Toe," his childhood nickname. And it was during his early years that he developed an interest in cartooning.
He loved to draw. And one day, when he was 4 or 5, he came across the cartoons published in the New Yorker.
He didn't understand the magazine's sophisticated and sometimes surprising approach to humor. So he took them to his mother.
"I watched her face as she read them to me, to try to look at her reaction to see if these were funny. They were clearly supposed to be funny, a dog talking to its master or something. And I remember asking her, 'Is that funny?' And she said 'Yes.' And I said, 'Why aren't you laughing then?' And she said, 'It's not that kind of funny'," Newman says.
He continued drawing as an adult, while pursuing other work, and eventually decided to freelance some cartoons. He penned images for three Juneau weekly newspapers before moving to the daily Empire.
"All of us are familiar with Tony's work over the years and feel that he has a real good solid take on things," says Nancy DeCherney of Juneau's Arts and Humanities Council.
One of its artists' panels awarded Newman a small grant to help him further his work. DeCherney reads from the panel's award recommendation:
"In spite of our own Sarah Palin fatigue, and against our better judgment, we are pleased. If it can be a community event, laughter and healing will be wonderful to work through this," she says.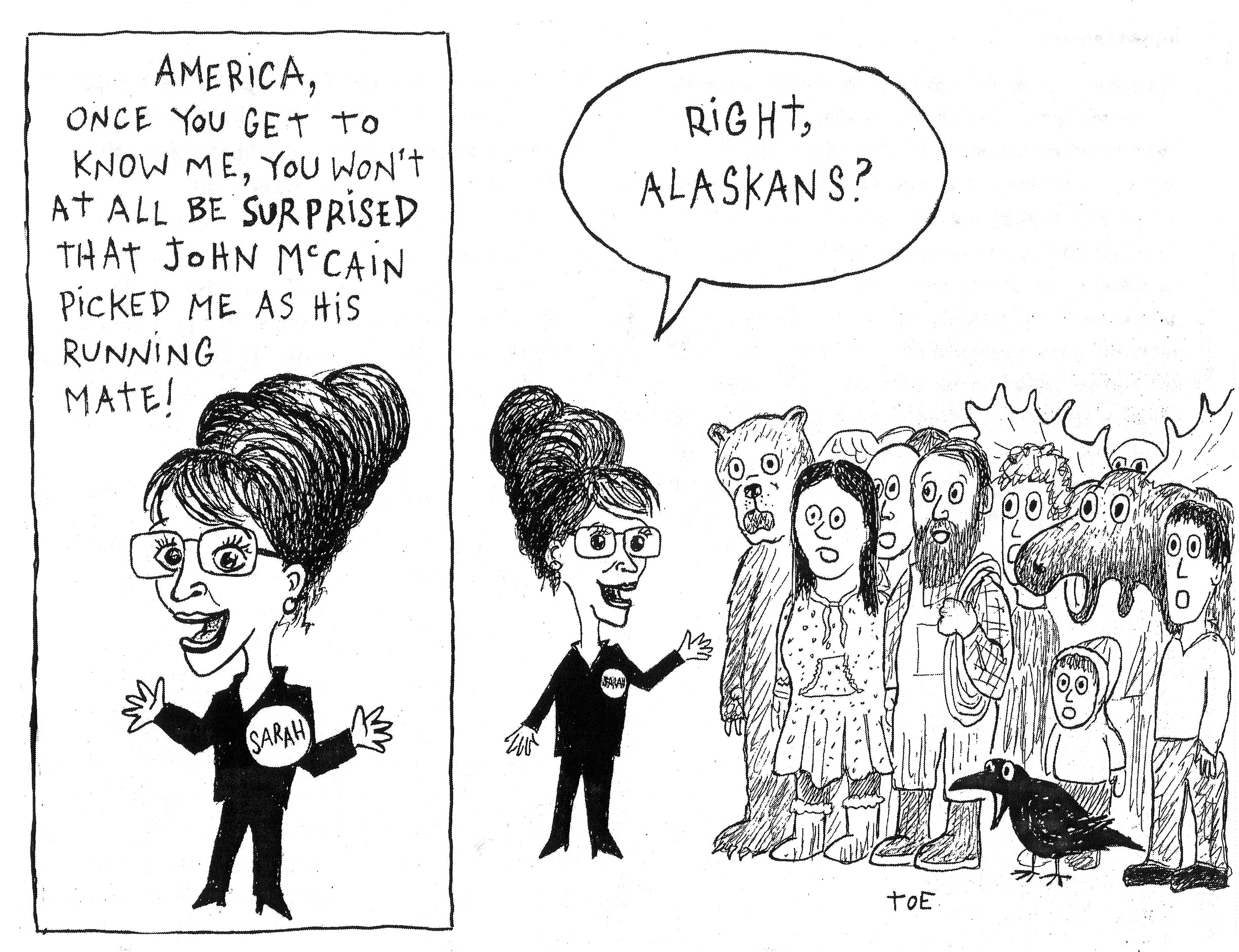 Newman was at first reluctant to publish his work as a book. But he realized his Palin cartoons gave him a strong story arc, with a beginning, middle, and something of an end. He tried shopping it to agents, but ended up publishing it himself.
He knows a lot of people have written about, commented on, or parodied Palin. But he says he brings a different perspective.
"In wanted to make a book that I wanted to read based on reflections that I knew were real and the reactions that I knew were real based on being an Alaska citizen and based on being a Juneau resident," he says.
Newman says he's a moderate nonpartisan and didn't set out to laud or bash Palin any more than the other politicians he draws. But he says he's heard from people who think he's too harsh – or too easy.
"That kind of pleases me. I didn't set out to make a book here that was a screed one way or the other. I'm hopeful that whether you're a Palin fan or critic you'll find something to identify with here," he says.
Newman is distributing his book in Alaska and through his website, sarahpalincartoons.com.
Listen to Tony Newman read from his book:
Click here to see other political cartoonists take on Sarah Palin.
More Toe cartoons from the Murkowski administration: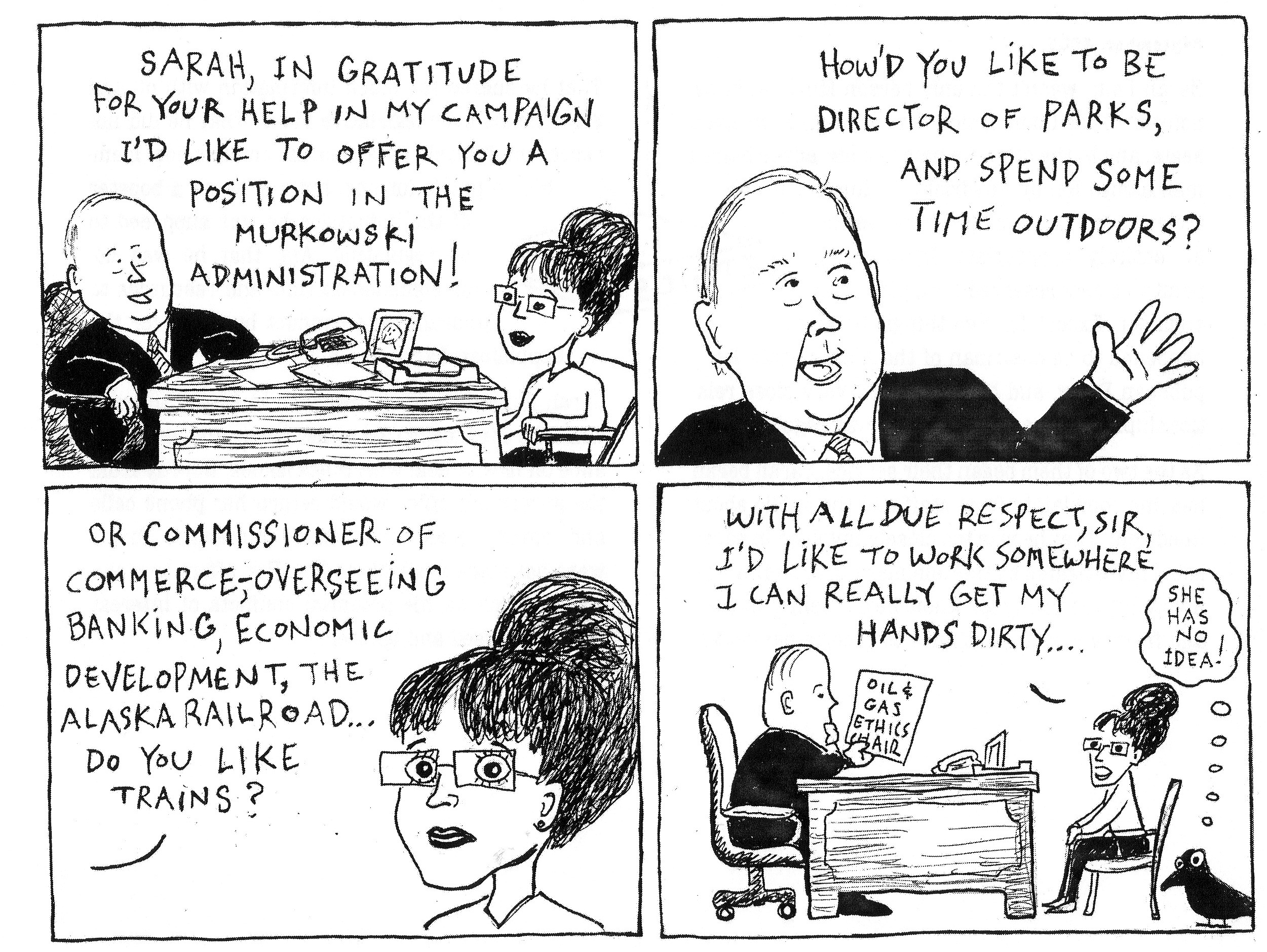 All cartoon images copyright 2011 by Tony "Toe" Newman.