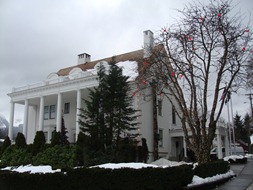 Governor Sean Parnell and First Lady Sandy Parnell will host the annual holiday open house at the Governor's mansion next Tuesday, December 6th.
The open house is among the most popular holiday events in the Capital City every year, with members of the governor's cabinet serving hot cider and holiday treats to Juneau residents waiting in line to have their picture taken with the first family.
More than 24,000 cookies and 100 pounds of fudge will be cooked up for this year's event. Students at Dzantik'i Heeni Middle School are making Gingerbread houses that will be on display, and several local school and community groups will perform carols.
The holiday open house has been held every year since the Governor's mansion was built in 1912, with the exception of two years during World War II. Over the last year, the mansion has undergone about a million dollars' worth of repairs and weatherization improvements.
This year's gathering is next Tuesday from 3 to 6 p.m. People with accessibility needs should contact the governor's office to arrange early entry. The number to call is 465-3500.