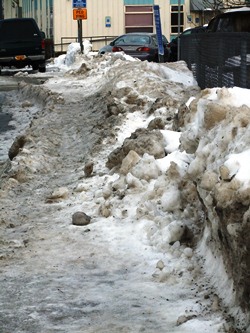 Juneau has received nearly 50 inches of snow since Nov. 1st. While normal snowfall is 12 inches, last year we got less than two inches for the month.
It's no wonder city officials have been hearing a lot of complaints about snow removal in the past few days. The topic opened Monday night's CBJ Assembly meeting.
"I'm telling people on the street if they fall and hurt themselves on them sidewalks, sue the city," Patrick Owen told the Assembly. He lives in downtown Juneau and has been watching the old, young and in-between unable to navigate the sidewalks.
"Keep that snow off so people can walk on them sidewalks. That's what them sidewalks are for," he said.
Dennis Harris lives downtown, but drives taxi throughout the city and borough.
"If you want to ask someone the opinion of how (CBJ) Public Works takes care of our streets, just ask a taxi driver," he said.
Harris lives on 12th Street in the area known as "The Flats." He's watched children walking in the street on their way to Harborview Elementary School, because the sidewalks are plugged with snow.
"Snow removal is not rocket science and it's not pushing snow around," he said. "It's snow removal."
Owen and Harris echoed many of the emails and phone calls Assembly members have been getting since the snow storms started.
Public Works Director Kirk Duncan also has been hearing about and seeing the problems. He told the Assembly he was really concerned about The Flats, between 9th and 12th streets. "The snow in there is just horrendous," he said.
Duncan outlined the strategy for clearing Juneau streets:
"We go after all the majors first and then the neighborhoods. We continually hit the main arterials and get to the neighborhoods as we can get to them," he said. 
Property owners are responsible for clearing the snow off sidewalks in front of their businesses and residences.
Both Duncan and City Manager Rod Swope say city street clearing crews are doing the best they can with the resources they have.  Swope says the borough is responsible for plowing 110 miles of road, so it's not going to be perfect.
"The state will plow, we'll come in and shovel it off and then the state will come back and plow it again."  He said the same thing happens in residential areas.  
"People will get out and shovel; city will come back through and plow and there's another amount of snow on the sidewalk. Folks, there's just no other way of dealing with it in a community like this," he said. 
Several Assembly members said sidewalks should be a priority. Karen Crane described what she saw on Sunday as she was driving past the downtown Juneau Arts and Culture Center.
"There was no clear sidewalk there. There was an older person trying to walk down that sidewalk and slipped and fell into Egan," she recounted.  "I understand the comments about the sidewalks, but especially where they're a borough responsibility, like in front of Centennial Hall and along the highway, those sidewalks need to be a priority."
Assembly member Randy Wanamaker has been hearing a lot from parents whose kids have had to walk in the street on their way to school.  He asked whether it's the responsibility of the school district or the city to clear the walks near school buildings.  
"Parents wonder why the city hasn't been taking care of the sidewalks where children are walking on their way to school at Riverbend, or on their way to Harborview. Whose responsibility is it to clear those streets?"
Kirk Duncan couldn't answer the question.  He took over the CBJ Public Works Department last summer, after six years as manager of Eaglecrest Ski Area, where snow is a precious commodity. He admits he's still learning the winter part of his new job.
"I'm not giving you a really good answer because, quite frankly, I don't know."  Duncan promised to have more answers for the Assembly at the Public Works and Facilities Committee meeting on Dec. 12th.
In the meantime, the snow has turned to rain and more is in the forecast. Now it's semi-frozen slush that's clogging up the sidewalks and thoroughfares;  drains are plugged and water is standing in the streets.   And it's only November.