Is the Alaska Native Claims Settlement Act a path to assimilation or a means of cultural survival?
That's the question posed by Sealaska Heritage Institute President Rosita Worl. She spoke Monday (this week) as part of a Juneau lecture series focusing on ANCSA, which has its 40th anniversary next month. (Watch a video of her speech.)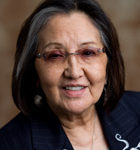 Worl, an anthropologist, is also vice-chair of the Sealaska regional corporation's board.
"Congress enacted ANCSA to promote assimilation. But ironically, it also enacted into law a traditional value of sharing through a form of what I call corporate socialism," she says.
She says that involves more than dividends.
Regional corporations share 70 percent of their logging and mining earnings. Many also offer special payments or extra shares to elders.
Worl says giving shareholders' descendents stock and voting rights is a modern version of a traditional value. Arctic Slope, Doyon, NANA and Sealaska Corporation shareholders have approved such measures.
"In voting to give stock to Natives born after '71, the individual shareholder is asked to choose between group rights of Native societies or individual rights of western societies," she says.
Worl says ANCSA is not a finished work. While it is almost 40 years old, it has undergone a number of changes and she expects to see more.
Worl went through the history of efforts to resolve property and other disputes that led up to ANCSA. She says land transfers are one of the legislation's most important elements.
"Congress really wanted to have clear title to Alaska because it was necessary for economic development. Native people, on the other hand, wanted ownership of their land, and they rejected BIA control of their lands," she says.
Click here to watch videos of lectures from the five-part Native American Heritage Month series.
KTOO's 360 North will commemorate the Alaska Native Claims Settlement Act in a seven-part television series ANCSA@40.
The half-hour programs begin Dec. 6 and will run weekly through Jan. 17. Nellie Moore hosts interviews with people who played a major role in the creation of ANCSA. Topics are Women Behind the Act, Politics and the Pipeline, and The Corporate Future.