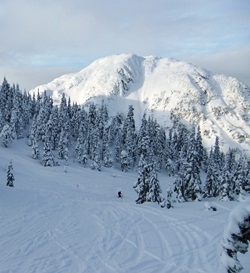 Eaglecrest has more snow than any other ski area in North America.
The city-owned ski area opened on Friday to one-hundred inches of snow at the top of the mountain and about 45 at the base, the most snow in recent history for November in Juneau.
According to a database of ski conditions at 97 open ski resorts in the U.S. and Canada, the amount of snow is well above any other area, many of which are operating with manmade snow – Juneau's is the real thing. www.skicentral.com
Ski Patrol Director Brian Davies called Eaglecrest ski conditions like mid-winter. There's more snow right now than the area got during that last ski season.
The snow came this month in three major storms. Mountain operations manager Jeff Brown said the groomers started working it immediately to make a solid base. Opening day came eight days earlier than the target date of December 3rd, with dry powder on top of that base.
At 80, Al Shaw seldom misses a day of skiing when Eaglecrest is open.
"The coverage is like February. It just doesn't get much better," he said. "You know there's a few places to fill in and obviously more snow will show up. If you miss this between now and the first of the year, you're basically missing a whole season."
Shaw was among those enjoying this weekend's early three-day opening. Judging by Friday's crowd, Juneau was ready for winter. Though the numbers are still being crunched, general manager Matt Lillard estimates 1,500 skiers and snowboarders turned out. Eaglecrest sold about 250 day tickets on Friday, which is very high for an area that gets most of its business from season pass holders. Lillard says the area has sold about 2,000 season passes so far.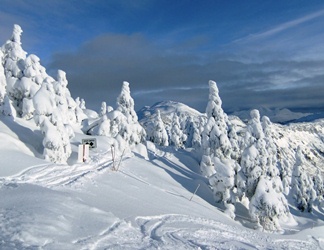 Long-time Eaglecrest skiers Bob Marshall and his wife Deborah Craig take an annual ski trip to Utah. They agreed it seemed like mid-winter on their hometown mountain.
"I don't think you can do better!" Marshall said. "At Utah they have 25 inches right now."
Craig said skiing this weekend was "as good as it gets in February and March. It's just amazing out there."
Eaglecrest will be closed Monday through Friday and open on Saturday for its regular season.