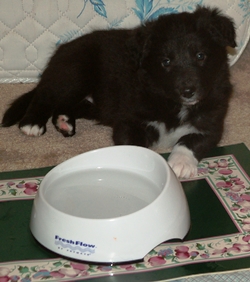 Some chicken jerky products for dogs could be making them sick.
The U.S. Food and Drug Administration is warning dog owners that some chicken jerky products imported from China may be associated with various symptoms ranging from decreased appetite and activity level to vomiting and diarrhea.
State Veterinarian Bob Gerlach (Ger-lock) says no specific brand has been identified, but the chicken products are being sold as tenders, strips or treats.
"It actually looks like a piece of jerky that specifically says made in China," Gerlach says. "So it's not ingredients that come from China, but the entire product is made in China and then shipped into the U.S. and could be packaged and labeled, or relabeled, once it gets here."
Gerlach says the federal agency has had a high number of complaints over the last 12 months from dog owners and veterinarians. Some dogs have died.
In 2007 the FDA reported that melamine had been found in dog food imported from China, and recalled more than 100 brand names. But in this case, the agency is still working with animal health laboratories to identify a contaminant in the chicken jerky products. Some of the illnesses reported may have another cause.
Gerlach says it's important to notify the FDA if a dog has any of the symptoms after eating the treats. Also, keep the packaging.
"So that we can get a better accounting of the extent of the problem," he says. "The other thing is many people will say 'gosh I fed the dogs this but we threw the treats out, or we threw the bag out, or the dog ate the entire bag.' It's not until they (FDA) can get samples of the treats that are involved in this that they can do more analysis to see if they can find a problem."
Gerlach says the FDA is continuing chemical and microbial testing to find the problem.
He says veterinarians and consumers should report cases of animal illness associated with pet foods to the FDA at: fda.gov/petfoodcomplaints.