A pair of powerful Southeast lawmakers will face off in the 2012 election. Angoon's Albert Kookesh and Sitka's Bert Stedman will both run to represent a Senate district newly configured by redistricting.
Earlier this year, Kookesh predicted reapportionment would merge part of his Senate district into another one in Southeast.
The Angoon Democrat, Sealaska board chairman and Alaska Federation of Natives leader told a public forum in Juneau that the change would leave him little choice about his political future.
"For me, if that's what happens, it's time for me to ride off into the sunset and say goodbye to everybody," he said.
Reapportionment is taking away most of the 130 communities in his current Senate district, which stretches from Southeast, through Prince William Sound, and up into the Interior.
What's left is combined with about three quarters of Sitka Republican Stedman's existing district. But Kookesh has decided to run in 2012.
"You know what? I'm not going to roll over and just go away. I've been in the Legislature for 16 years, eight in the House and eight in the Senate. And I think that I've developed a wealth of information and a good background," he says. "I don't want to quit being in the Legislature. I enjoy it, it's something I really have fun with, so I decided I'd give it a shot."
In addition to Angoon and Sitka, the new district includes Ketchikan, Wrangell, Saxman, Metlakatla, Haines, Hoonah and Prince of Wales Island.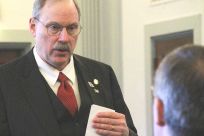 Stedman, who's served in the Senate since 2003, faces a smaller challenge.
"So there's about 26 percent of people that will be new. And I'll be spending a considerable amount of time going out and meeting with them and getting detailed understandings of their issues and try to resolve some of their stuff," he says.
Stedman and Kookesh have worked together as members of the Senate's bipartisan majority organization. Stedman co-chairs the chamber's budget-writing Finance Committee. Kookesh heads up its transportation panel.
Both say they plan a clean campaign.
"I just want to concentrate on the merits of myself and I don't intend to be negative at all. I have nothing negative to say about him. He's a good guy," Kookesh says.
"It always seems in politics in the end it gets a little bit messy with whoever happens to be behind, walking into the election the last few weeks," Stedman says. "But I'm hoping this election will stay at the high road the whole way through. I fully intend to talk about the merits of my tenure in the Senate and not concentrate so much on my opponent."
Stedman says he'll campaign on his efforts to fund numerous projects throughout Southeast. That includes hydropower facilities and transmission line work.
He'll also continue pushing for in-state construction of new Alaska Class Ferries.
"Expansion of Alaska Ship and Drydock in Ketchikan so we can build those vessels in Ketchikan. Along with working with the need for another 10 megawatts of power for the Niblack mine on south Prince of Wales. If we can do those two things, we'll be looking at 200 to 300 jobs," he says.
Kookesh says he'll cite his relationships with community leaders. But he understands that means reaching out to new communities.
"I expect that I'm going to have to do a lot of door-to-door work. Especially in Sitka and Ketchikan and Wrangell where people haven't had the occasion to get to know me. I don't want to take any of the communities I've represented in the past for granted either. I'm going to have to do some campaigning there. I just think that's going to be a lot of work, but a lot of fun," he says.
Before facing each other, Stedman and Kookesh will have to clear their party primaries. So far, no one else has filed for what's now called Senate District Q.
All but one of Southeast's other six lawmakers have filed for re-election.
Redistricting, which still faces court challenges, is costing Southeast one House seat and half a Senate seat.
Hear a report on Stedman's last campaign.