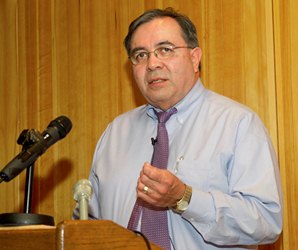 Sealaska Corporation President Chris McNeil is optimistic about Alaska Native Corporations in the current U.S. economic climate. McNeil spoke yesterday (Monday) on the 1971 Alaska Native Claims Settlement Act as part of the Sealaska Heritage Institute's lecture series celebrating Native American Heritage Month.
"It's in these kind of times that you can come up with different kinds of new ideas about how to create new opportunities in the economy for Alaska Native people," McNeil said.
The Sealaska CEO called the 1971 Alaska Native Claims Settlement Act, or ANCSA, an adaptive tool for social, cultural, and economic development of Alaska Natives. He gave Alaska Native leaders of the time credit for "thinking out of the box" by implementing ANCSA as federal law, rather than as a treaty. McNeil said ANCSA is similar to a "double-edged sword," and its meant to be amended.
"But it also means that every generation is free to look at it and decide for themselves whether or not the way the law is stated actually meets the needs of Alaska Native people at that moment," McNeil said.
The language included in the first draft of ANCSA simply substituted existing federal funding with the payment provided by the Settlement Act, he said.
"Essentially they were going to take away with one hand, give with the other. But the leadership was very clear about this. They wouldn't stand for it. Without that, for these 40 years, we might have had our Land Claims Settlement Act, but we might have not been able to participate in any of the federal programs," he said.
McNeil also stressed the importance of the role of the Indian Self-Determination Act of 1975 in securing federal funds for Alaska Natives.
He said an enormous amount of economic development has occurred because Alaska Natives were considered Indian Tribes in the law. "And then there was almost a companion bill called the Indian Financing Act which also stated that ANCSA would be considered Indian Reservations for the purposes of the Indian Financing Act," he said.
Examples McNeil gave of these programs included aid from the U.S. Forest Service to facilitate more sustainable timber practices, including tree thinning and planting, and the potential for interested Alaska Natives to pursue oyster farming.
"I think it provides a basis for being able to participate in these programs, to be able to have sustainable economies for the long term future. And I would suggest that we have not plumbed the depths of what the art of the possible is. It seems to me in Congress that there are always opportunities to make things better," he said. "Administrations come and go, Congresses come and go; we're always going to be there. One of the things that we need to be thinking about is "What's next?"
The last lecture in the brown bag series will be delivered by Rosita Worl, the President of the Sealaska Heritage Institute, on Monday, Nov. 28. Worl's lecture is titled "ANCSA: A Path to Assimilation or Cultural Survival?"