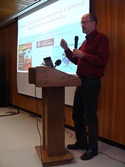 Alaska Native Corporations display a strong ethos of corporate responsibility, according to an anthropologist who studies the organizations.
Tom Thornton is a senior research fellow for Environmental Change and Management at Oxford University. He presented some of his current research yesterday (Tuesday) at Sealaska Heritage Institute's annual Native American History Month lecture series.
Thornton says Native Corporations make especially interesting subjects for social scientists.
"The big reason is that they are very unique hybrid institutions," he says. "They're not like regular corporations, and obviously they are major cultural institutions as well."
Thornton says the corporate responsibility ethos is evidenced by many of the corporations' mission statements, which refer to "sustainability."
"Probably like all corporations, not every Alaska Native Corporation lives up to its ideals and its mission statement. But the fact that they're articulated with a certain set of values is quite interesting," Thornton says. "Because we're all looking for the right model of sustainable development, if that's not an oxymoron or a non-sequitur. If there is sustainable development, it obviously has to incorporate some key cultural values into it. It can't just be an economic model."
Thornton's current project is looking at how ANCs have transformed institutional relations between Native people, state governments, ecosystems, and economies.
Since the corporations were created by the Alaska Native Claims Settlement Act, they have adapted to changing cultural, economic and political circumstances. He points to Southeast Alaska, where Native people traditionally lived and survived by the ocean. But under ANCSA – where the settlement included land – virtually all Southeast Native Corporations have been or are involved in timber.
"You move from people who were fishermen to forests. There wasn't a lot of experience at the beginning. This lack of experience led to mistakes, or people taking advantage, and this set a lot of particularly small corporations off to a bad start," Thornton says. "They either harvested their timber too quickly, they didn't get a good price for it, or they didn't really consider their own values in terms of what they really wanted to do with their natural capital to support their cultural capital."
In some cases Thornton says Native corporations have done well by moving away from natural resource industries, and into businesses like tourism. One example is Huna Totem Corporation's Icy Strait Point tourist attraction in Hoonah.
"You have 130 people employed by Huna Totem Corporation in tourism. That would seem to be sustainable if you can get one ship per day in there throughout the summer," he says.
But there's still a strong desire on the part of ANC leaders to combine traditional ways of living with newer models. Thornton says one Hoonah fisherman suggested to him that they develop niche economies.
"In the summer, you have tourism, major industrial tourism, that is your form of sustainable development. But in the winter and spring, maybe people could still fish there," he says.
Thornton's research is still in the preliminary stages. He says it will eventually compare the development of Southeast Native corporations with those in the Bering Straits region.
Sealaska Heritage Institute's Native American History Month events continue today (Wednesday) with a luncheon to recognize ANCSA at the Alaska Native Brotherhood Hall.
The lecture series resumes tomorrow (Thursday) with a talk by Tlingit and Haida Central Council President Edward Thomas on the relationships between tribes and corporations.