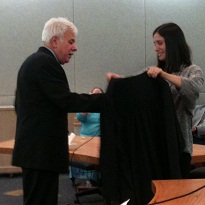 Louis Menendez, the former defense attorney and prosecutor, took the oath and participated in a ceremonial robing on Friday as the newest Superior Court Judge for Juneau. It was largely for the benefit of Menendez's friends and family; A childhood friend and his brother, daughter and young grandson came up to Juneau to participate in the ceremony. The event was videotaped for Menendez's mother back home. Menendez's father, the son of Spanish immigrants, passed away earlier this year, but after hearing news in May that Menendez had been appointed to the bench.
Menendez has actually been working as a judge since he took the oath in small, brief ceremony administered by Alaska Supreme Court Chief Justice Walter Carpeneti on September 9th.
Last Friday afternoon, Carpeneti was accompanied by every other sitting state judge in Southeast Alaska for a public version of the event. Several retired judges, clerks and staff at the Dimond Courthouse, and attorneys packed a courtroom to standing room only. Menendez joins Juneau District Court Judge Thomas Nave and Sitka Superior Court Judge David George on the bench. All three were formerly private attorneys that simultaneously occupied offices in a house on Seventh Street, just a few blocks up the hill from the Dimond Courthouse. They earned the nickname of "Boys on the Hill" — in part — because of the 'legal firepower' that was concentrated there.
Menendez applied for the seat vacated by retiring Superior Court Judge Patricia Collins.
Menendez earned his law degree from University of California's Hastings College of the Law in San Francisco with graduate work at New York University. The start of his law career includes working as a federal public defender in Texas, in civil law in Juneau, and as a state prosecutor in various Alaska communities — interspersed with stints caring for family in Monterey, California and attending New York University Film School. Since 1995, Menendez has made his mark as a private defense attorney, sometimes taking on high profile criminal cases.