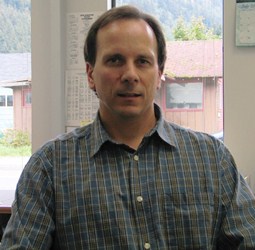 Sean O'Brien is running for the Juneau School Board in the October 4th municipal election, but his name doesn't appear on the ballot.
Get out a pen, pencil, lipstick, whatever you have handy. Grab some paper, a cereal box, or your iPhone. This is the information you need:
"S-E-A-N, for Sean, and O'Brien is spelled O-apostrophe-B-R-I-E-N."
Sean O'Brien is running for one of the two open school board seats. He served on the board from 2005 to 2008. He'd planned to run again next year, when there may be up to three vacancies. But when only one candidate filed, O'Brien re-evaluated his timing. He was too late to get on the printed ballot, but not too late to file as a write-in candidate.
For a tune up, O'Brien attended September's school board meeting.
"It was energizing, it was positive, it was invigorating" he says. "It made me feel even better about jumping back in."
O'Brien's experience with Juneau's education system extends beyond his previous term on the school board. He is the parent of three graduates of the public school system as well as a current junior high school student and a high schooler.
O'Brien himself is a graduate of Juneau-Douglas High School, and his father was a teacher. His family moved to Juneau when O'Brien was six months old.
In 1983, he graduated from Western Washington University in Bellingham, Washington, where he focused on environmental studies and psychology, and came right back to Juneau.
He's been working for the state of Alaska since 1988, beginning in the Department of Labor and Workforce Development. Now he works for the Department of Education, where he can focus exclusively on people with physical and mental disabilities. It's an area he's always been interested in, and it overlaps with his interest in youth and the school system.
"We also deal with Youth Transition, which is individuals in schools ages 16 to 24 who have disabilities and are trying to go to work. I supervise the statewide coordinator for our Youth Transition program," he says.
If elected, O'Brien says the school budget will be his primary concern. Teachers, he says, and the administration, are already working really hard.
"It's difficult to look at limited resources and try to work smart," he says.
One of the examples he gives for working smart:
"Looking at data and evidence-based practices and creating reasonable standards, so we're not re-inventing the wheel."
Another item on his agenda is retaining students in the school system.
"The single most important issue I've always thought about for kids' success is engagement in the school. Engagement with the teacher, engagement with the curriculum, being interested, and following through. If things start to slip have early intervention with the kids," he says.
Juneau has a high dropout rate. O'Brien says only half the kids who enter ninth grade will actually graduate. He believes one of the main reasons is that students don't see much relevancy in the curriculum. He references a study that looked at 100 students who dropped out of the school system.
"The assumption that they were already flunking out, that they were D and F students, wasn't the case. It wasn't poor academic performance. It was disengagement, it was their perception that it wasn't that valuable for them to continue," he says.
But how does one deal with a limited budget and the need for extra resources to address a high dropout rate? One example O'Brien gives is the creation of a district-wide Professional Learning Community, or PLC. Teachers share among themselves what works and what doesn't, and time is set aside for the program.
"We have some amazingly talented teachers that are doing some amazing things and sometimes what is missing is that linkage that is understood by their peers," he says. "This is really an opportunity to build within our own framework and our own expertise and resources in a really cost effective way."
O'Brien says he also supports alternative education systems, like homeschooling, or Montessori programs.
"Getting a kid to fit into the right engagement environment means you've got to have a different variety of environments for that kid, because kids are so different," he says.
O'Brien and Sally Saddler are running for the two open school board seats. Saddler's name appears on the ballot and O'Brien's needs to be written in…
"S-E-A-N O-apostrophe-B-R-I-E-N."