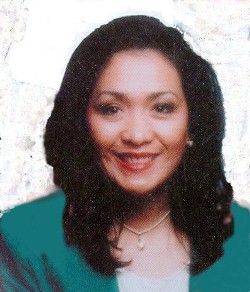 Geny Del Rosario is one of the three candidates vying for the CBJ's district-wide assembly seat. A recent interview with KTOO's Amanda Compton was just one stop in her busy schedule.
"Started the day early, sun was out, and it was a good day, and as usual we have work to do and appointments to go to."
Del Rosario grew up in the Philippines. Her bachelor's degree is from the University of Santa Tomas, where she majored in Economics with a minor in Business Administration.
"I worked in Philippines for many years with a lot of corporations, that's where I got my experience in business," she said.
Through a Rotary International exchange program, Del Rosario traveled to the United States, settling in California.
"I had my real estate license there and worked my way through in the business sector there and found that CA too busy for me and moved to Las Vegas – what a place to go!"
She established a travel agency in Las Vegas, and was appointed tourism coordinator by the Philippine Government.
"Well, things happened, and when you go on a cruise as a travel agent we come to Juneau, and I loved Juneau and I said, 'someday, if I come back, I'll stay' and that's why I'm here," she said.
That "someday" was in 2005. Del Rosario quickly rolled up her sleeves, and started a cruise shuttle bus business. Now she operates a food kiosk, just behind the downtown public library.
Del Rosario says she enjoys serving customers. That's why she's running for Assembly – she likes helping people. Her top three priorities, if elected?
"Services of parents, children, and seniors."
She stresses the importance of better support for senior citizens, early childhood education, and after- school programs.
"When you start early childhood, that is what the children would learn as they grow old and they will not be a burden to society," Del Rosario said. "I'm into prevention. Are we building more schools or are we building more prisons? Education doesn't end after school, that's why Afterschool Programs are important."
Del Rosario says she will bring the attributes of flexibility and adaptability to the Assembly. Those characteristics define her position on the reopening of the AJ Mine, currently under study by the Assembly.
"The AJ Mine is location – it is too close for comfort to the citizen of Juneau," Del Roasrio said. "Eventuality (sic) comes and this mine opens, I would be very resilient to make sure that environmentally it is safe, that it will not contaminate our water, soil and air, and that the city complies even if we are the landlord."
Del Rosario is against extending the road north of Juneau, but explains that she understands the feeling of claustrophobia some citizens say they experience, and would respond accordingly.
"Now? I would say no, but in the near future? Yes. There's a need for it? Then we can build the road," she said.
Those issues are not questions in the upcoming municipal election, but renewing Juneau's 3 percent sales tax and imposing a plastic bag tax are on the ballot. She supports both.
"Are plastic bags worth the price of your health or the health of the Ocean or the environment? It is for convenience, I know, I use it, I will not deny it, but if we can learn to change our lifestyle and use reusable I would. The time to start is now," she said.
Whether it's selling school bonds or opting out of state financial disclosure rules, Del Rosario says CBJ officials must make sure the public is aware of every program they want to implement. Del Rosario states she supports adopting Proposition 1, exempting city officials from the state financial disclosure law and replacing it with a local ordinance.
"A public person, you have to be open and be transparent," she said. "When you are in the city, issues are dealt in the city. What happens in the city, stays in the city."
Del Rosario says Juneau needs more subsidized housing and a better solution to Juneau's growing landfill.
"The CBJ should examine other resources like the green waste recycling, or the plasma burner, or an oven incinerator," she suggested. "The best thing we have to the think about is what is cost effective that would have the best result?"
Though Del Rosario has only been living in Juneau since 2005, she's firm that community involvement and exposure should outweigh experience in this election.
"I have the energy to do this! I've been on the street morning, noon and night and I meet all the folks and they said we need someone new."
She also says Juneau's approximately 5,000 Filipino residents need representation on the Assembly.
"They said to me 'we have not any representation or voice for us.' I said to them, 'I will help you as a community, but I have other constituents to serve too'."
She says diversity also plays a large role in her platform.
"I believe that diversity is the key to unity, and diversification is essential to growth and prosperity," Del Rosario said.
Geny Del Rosario is running against Loren Jones and Carlton Smith for the areawide seat of the Juneau Assembly. The municipal election is October 4th.