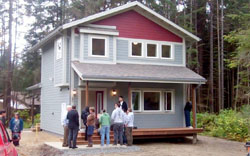 A Lemon Creek-area house designed and built by Juneau-Douglas High School students is ready for a family.
An open house was held Friday to show off the 1,000 square foot, two-story, energy efficient home. It was also a thank you to the partners and local businesses that supported the project. Juneau Housing Trust reimburses the school district for its costs.
JDHS students have built about 12 affordable homes since 1973.
Now all this two-bedroom, two-bath house needs is the personal touch, according to Juneau School District Superintendent Glenn Gelbrich.
"I love the design of the house. I think it is a remarkably straight-forward design that is right to be personalized by the people who live here," Glebrich said during the open house.
The house project is a partnership between the Juneau School District, and Southeast Alaska Guidance Association (SAGA), Juneau Housing Trust, University of Alaska Southeast, Plumbers and Pipefitters Local 262, Southeast Alaska Building Industry Association, and the Juneau Construction Academy.
JDHS teacher Craig Mapes teaches the course, with worksite management and construction assistance by SAGA Construction Manager Justin Fantasia and Americorp's Jared Wharton.