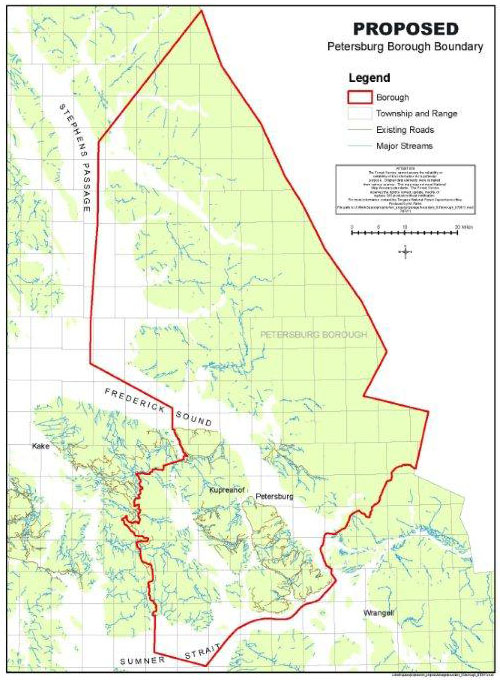 Petersburg's plan to form a borough is drawing opposition from several surrounding communities. While Juneau, Kake and Kupreanof say they don't oppose a Petersburg borough, they are concerned about its boundaries.
Petersburg is on Mitkof Island, where the Wrangell Narrows meet Frederick Sound. Its proposed borough would be about 4-thousand 347 square miles – both land and water.
The new Petersburg boundaries would stretch into an area previously identified for annexation to the city and borough of Juneau: All the territory from the southern boundary of the CBJ and east to the Canadian border. It includes the Tracy Arm / Ford's Terror Wilderness, Endicott Arm, as well as Holkam, Windham and Hobart bays.
Thirty-thousand acres at Hobart Bay are owned by Goldbelt, Juneau's Native Corporation.
Mayor Bruce Botelho says Juneau has never filed to annex the area, in deference to Goldbelt, which previously opposed putting its Hobart Bay land in a borough.
In 2007, Juneau made the decision to wthhold trying to move in that direction "unless there was some triggering action," Botelho says. "One of those that was contemplated was the possibility that another community would start the annexation or incorporation of those lands."
Goldbelt Corporation says it is currently neutral with regard to which borough – if any — should encompass Hobart Bay. In a letter to both Botelho and Petersburg Mayor Al Dwyer, Goldbelt Operations Vice President Derek Duncan says the Goldbelt Board of Directors will decide its borough preference over the next couple of months.
Petersburg's new boundary line would abut Juneau's boundary at Holkum Bay. Dwyer believes the lines are justified, based on past use by Petersburg fishermen.
"You know we expect there'll be development in those areas we've delineated," Dwyer says.
Is Petersburg's petition to include those areas in a borough the trigger for Juneau annexation? That's the question Juneau will answer over the next few weeks, after research, public input and much deliberation.
Juneau Assembly member Peter Freer believes it is. Over the last decade several Southeast communities have expanded their boundaries: Ketchikan through annexation, Wrangell and Skagway have incorporated, and a number of other communities are examining new boundaries.
"It is in our interest to act and define that area that we believe should ultimately be part of our borough," Freer says.
Meanwhile, both the city of Kake and the organized village of Kake plan to protest the Petersburg borough. The small first class city of about 560 is on the northwest coast of Kupreanof Island. The new borough would encompass a large part of the island, which Kake says are ancestral lands.
John Janik is Kake city administrator.
"They're taking up what appears to be half of the island if not more," Janik says. "And the land they're trying to encompass is historically Native cultural land."
On the northeast shore of Kupreanof Island, the tiny second class city of Kupreanof – population about 30 –– is also opposed. But Wrangell, which became a borough in 2008, says it doesn't have any major issues with the proposed Petersburg borough boundaries.
The Local Boundary Commission will consider the concerns of other communities in its decision. October 26 is the deadline for filing competing petitions and opposing briefs with the LBC.
The Juneau Assembly will take up the issue again later this month.