The State of Alaska today (Friday) released thousands of pages of e-mails Sarah Palin sent and received during her time as governor. The national media descended on Juneau earlier this week in anticipation of the release, which comes nearly three years after the initial public records request. KTOO's Casey Kelly has more.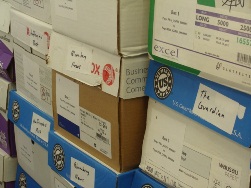 Reporters, camera men and bloggers from nearly every major national news organization crammed into the third floor hallway of the Court Plaza Building – known in Juneau as the Spam Cam. About a dozen dollies lined the hall, piled five feet high with boxes of documents.
When the time came, Governor Sean Parnell's Spokeswoman Sharon Leighow released them to the media.
"It's all yours, let 'er rip," Leighow said.
Each set of six boxes contained more than 24-thousand pages of Palin's e-mails. Leighow – who also worked for Palin – says the documents were culled from the state accounts of 55 current and former Alaska officials, whom Palin emailed using her private Yahoo account.
"Employees who had frequent communication with the governor. For instance, the lieutenant governor, the chief of staff, deputy chief of staff, her press people, special assistants." said Leighow.
The state is charging $725 for a complete copy of the records to cover the cost of printing. Governor Parnell's office will only make one public review copy available throughout the entire state. That frustrates Republican Activist and Palin critic Andree McLeod, who says the state should have made the records available electronically.
"It would have lowered the barriers of the access for information, which technology does. It democratizes information. But the Parnell administration has not caught up with that yet, and I don't believe they're interested in doing so," McLeod said.
Some state lawmakers have ordered copies that will be available to the public in Anchorage, Fairbanks and Kenai. And many of the news organizations that paid for the documents have already posted them online.
MSNBC.com, working with a team of Juneau volunteers, has hired electronics investigation company Crivella West to sort through the records. Co-founder and CEO Arthur Crivella says within minutes of them being posted on the web, they're sent to computers at the company's headquarters in Pittsburgh. The computers then study the e-mails for language that may be interesting to Crivella's trained researchers.
"Essentially we're looking for personal language, we're looking for emotional language," says Crivella. "Where anybody in their administration is emotional about something, alarmed, the language of deception."
MSNBC.com Investigative Reporter Bill Dedman admits the document dump could be complete waste of time. But he says someone has to vet Palin with her profile as a national political figure.
"Some of what we get out of public records like this is not some blockbuster scandal. I don't think it's about that at all," said Dedman. "I do think that you get some sense of tone, of character."
The documents were first requested in 2008 by news organizations following Palin's vice presidential bid. Palin resigned in July 2009 after 966 days in office. It took 997 days to fulfill the records request.