KTOO is making a few impactful changes to the KTOO News AND KRNN program schedule this fall. This is the result of a few factors, including the availability of new programs, cost changes, and some older shows ceasing production. Our primary motivator, however, is to bring more diverse voices and experiences to the airwaves. Some of the key changes are highlighted below: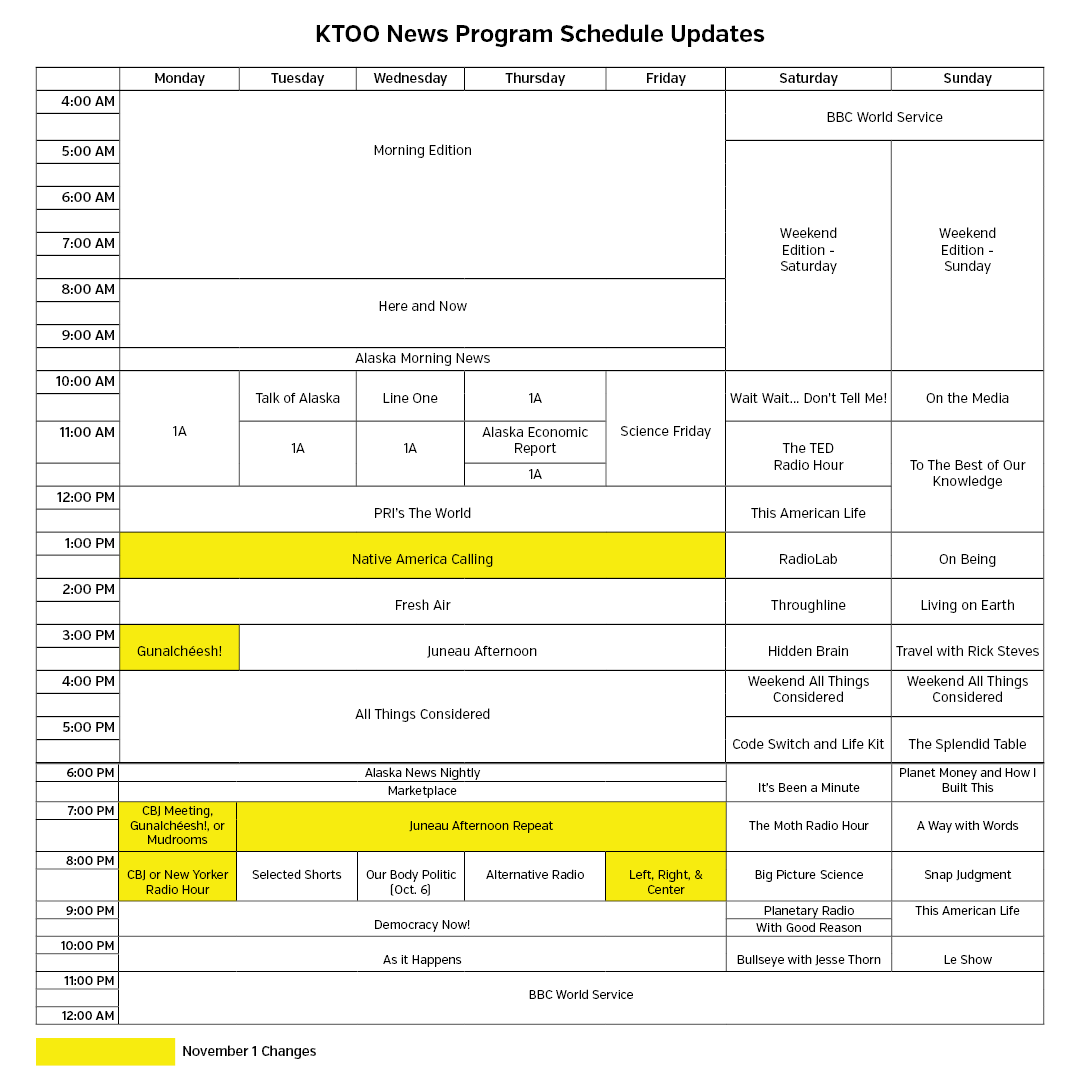 OCTOBER 1, 2021 CHANGES
KTOO 104.3 FM Schedule:
For the complete KTOO schedule, please click here.
8 p.m. Wednesday (beginning October 6): Our Body Politic. Created and hosted by award-winning journalist Farai Chideya, Our Body Politic is unapologetically centered on reporting on not just how women of color experience the major political events of today, but how they're impacting those very issues. Weekly episodes feature in-depth conversations about the economy, health, politics, education, the environment, and the most prescient issues—because all issues are women's issues. Produced by KCRW, KPCC and KQED.
2 p.m. Saturday: Throughline. The past is never past. Every headline has a history. Join us every week as we go back in time to understand the present. These are stories you can feel and sounds you can see from the moments that shaped our world. Produced by NPR.
5 p.m. Saturday: Code Switch and Life Kit.
Code Switch is the fearless conversations about race that you've been waiting for. Hosted by journalists of color, this NPR program tackles the subject of race with empathy and humor. We explore how race affects every part of society — from politics and pop culture to history, food and everything in between. This podcast makes all of us part of the conversation — because we're all part of the story. Code Switch was named Apple Podcasts' first-ever Show of the Year in 2020.
Life Kit is the show that recognizes everyone needs a little help being a human. From sleep to saving money to parenting and more, we talk to the experts to get the best advice out there. The topics will often revolve around race and identity, but we're always here to help listeners get through life together. Produced by NPR.
7 p.m. Saturday: The Moth Radio Hour. The Moth Radio Hour features our most beloved tales and the stories behind the stories. The series debuted in 2009 and is now airing on more than 500 stations nationwide. Produced by Atlantic Public Media.
Shows with new time slots:
8 p.m. Sunday: Snap Judgement
10 p.m. Saturday: Bullseye with Jesse Thorn
Shows no longer in production: Says' You! and Ask Me Another
NOVEMBER 1, 2021 CHANGES
1 p.m. Monday-Friday: Native America Calling. Native America Calling is a unique program linking public radio stations, the internet and listeners together in a thought-provoking national conversation about issues specific to Native communities. Each program engages noted guests and experts with callers throughout the United States and is designed to improve the quality of life for Native Americans. While NPR and some of the other national program producers whose content we carry are doing a better job at diversifying hosts and perspectives, the voices of Alaskan Native and Native American people are still underrepresented. In bringing this show to the airwaves, KTOO listeners will hear their important stories regularly.
7-8 p.m. Tuesday-Friday: Juneau Afternoon. We are repeating Juneau Afternoon in the evenings in response to requests from listeners who were not able to catch it at 3 p.m. Over the last three years, Juneau Afternoon has evolved from a show that was focused primarily on upcoming events in town, to a place for the community to come together around important conversations. On any given day you may hear about art openings or fun runs, but you may also hear about an Alaska Native carver's journey from apprentice to master, or an intimate conversation from the Black Awareness Association of Juneau about what it's like to experience racism as a child growing up in Juneau. Listening to the program each day will not only help you keep your finger on the pulse of Juneau's community life, it will broaden your understanding of those with whom you share it.
3 p.m. Monday (will also be one of the rotating programs at 7 p.m. on Monday): Gunalchéesh!. Produced by Kyuuhlgaansii Frederick Olsen, Jr. in Sitka, AK, this program features Alaska Native languages, especially the endangered Haida, Tlingit, and Ts'msyen. In between segments, you'll hear songs in those languages as well as Aleut, Inupiaq, Yupik, and others. The idea for the show came out of Kyuuhlgaansii's background of recording languages (mostly Haida) combined with the United Nations declaring the year 2019 as the year of indigenous languages. The intent is to normalize hearing local indigenous languages without much translation. "Gunalchéesh" means "thank you" in Tlingit.
Shows with new time slots:
8 p.m. Friday: Left, Right, & Center
8 p.m. Monday: New Yorker Radio Hour
KRNN CHANGES 4-5 P.M., MONDAY-FRIDAY
With the Juneau Afternoon repeat on KTOO News, we will no longer broadcast the program at 4 p.m. on KRNN. This gives us a great opportunity to bring in some new music and voices to the air, mixed with a couple of long-time favorites.
Monday: Indigenous in Music
Tuesday: Indigenous in Music
Wednesday: Reclaimed
Thursday: All Songs Considered + Alt.Latino
Friday: Acoustic Accents
For the complete KRNN schedule, please click here.
Reclaimed: Reclaimed is one-hour weekly program hosted by Jarrett Martineau, (nêhiyaw/Denesuline), that explores the many worlds of contemporary Indigenous music, from traditional songs to Native hip-hop, R&B, and the dancefloor-filling beats of electric powwow. Reclaimed introduces listeners to a new generation of Indigenous artists, while paying respect to First Nations musicians of previous generations who set the stage for today's emerging talent to rise.
Indigenous in Music: Join Larry K from the Ho Chunk Nation, as he brings you a weekly two-hour mix of Indigenous music from around the Western Hemisphere, produced from the Two Buffalo Studios in Sarasota, FL. Enjoy interviews and new music in rock, pop, country, hip hop, blues, house and electronica from our Indigenous musicians.
All Songs Considered: All Songs Considered is NPR's guide to discovering new music below the radar. Every week, host Bob Boilen and producer Robin Hilton go through hundreds of new cds to find sneak previews of music that's worth getting excited about, whether it's the latest Swedish pop band, a hip hop artist going ambient, or a singer-songwriter with a twisted new take on love. Sometimes, artists or critics stop by All Songs Considered with their top picks. It's the perfect show for listeners who want to stay current, but don't have the time.
Alt.Latino: Every week, Alt.Latino introduces listeners to new alternative Latin music, including diverse genres such as cumbia, Mexican garage rock, Panamanian rap, heavy metal mariachi and many more boundary-blurring sounds from around the world. In addition to music, Alt.Latino features interviews and insightful conversation about Latin events and culture.
Acoustic Accents: "Acoustic Accents" showcases great songs in the realms of folk, roots, bluegrass, Americana, Celtic, and everything in between. In addition to the weekly line-up, the occasional "Words & Music" segments feature live performances and interviews with national and international touring musicians.
Have questions or comments about the program changes? Contact us using our online form or call us at 907-586-1670.