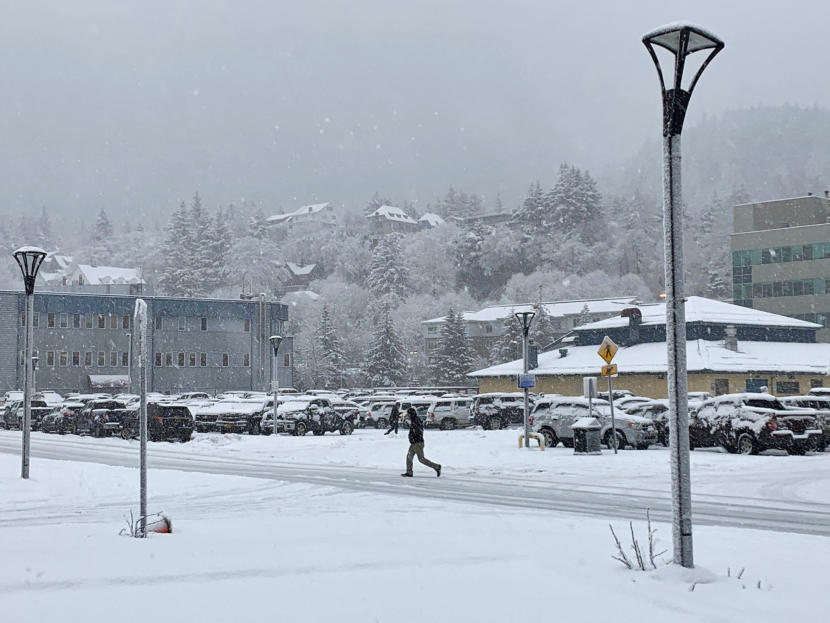 The northern Panhandle woke up to a snowstorm Thursday morning.
The National Weather Service has issued a winter storm warning. They say up to 8 inches of snow are expected throughout the day, with an additional 2-4 inches expected overnight.
"The snow is going to start tapering off a little bit later tonight and into Friday, but we're going to continue to get some snow showers Friday and Saturday," said Pete Boyd, a meteorologist with the weather service.
Heavy snowfall is also expected in Pelican, Gustavus, Hoonah and Haines.
The storm is creating slippery conditions on the roads.
"This is heavy snow," Boyd said. "These are going to be slick roads, low visibility. So take your time, slow down driving."
Skiers and backcountry recreationists should also take caution. A combination of gusty winds and wet, heavy snow means a risk of avalanche is "high," according to the Juneau Urban Avalanche Advisory.
Alaska Airlines spokesperson Tim Thompson said there have been nine cancellations throughout Southeast since Thursday morning. He said there are flight delays in and out of Juneau due to weather.
Thompson said travelers can check the Alaska Airlines mobile app or website, or call customer service for the latest flight information.
Several Juneau bus routes have changed because of the snow. If you're taking the bus Thursday, check with Capital Transit before you head out.
The Juneau School District has canceled most after-school activities on Thursday. As of early Thursday afternoon, school officials hadn't made a decision about Friday cancellations.
KTOO's Matt Miller and Adelyn Baxter contributed to this report.
This story has been updated.