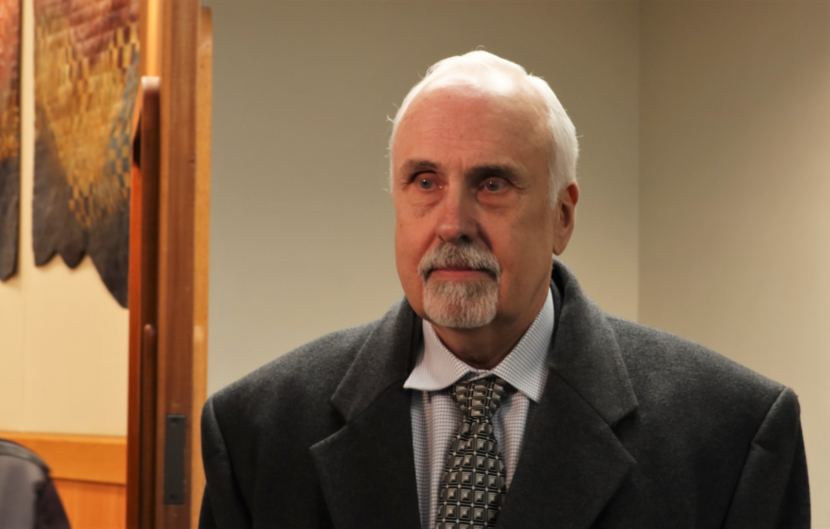 Update (6:30 p.m. Friday) – Andrew Kitchenman, KTOO and Alaska Public Media
The final margin of victory for Bart LeBon is one vote.
LeBon will be the state representative for the district representing downtown Fairbanks. The Alaska Supreme Court Friday upheld the results of a recount that left LeBon, a Republican, ahead of Democrat Kathryn Dodge.
LeBon said he's relieved.
"I'm glad that this part of the election is behind me, and I can now move forward to the business of representing House District 1," LeBon said.
The lead repeatedly changed both on election night and in the following weeks, through the initial ballot count and a recount. The tally ended with 2,663 votes for LeBon and 2,662 for Dodge.
In a statement, Dodge said she respects the court's decision. She urged every Alaskan to "remember the significance of each and every vote, and how important it is to exercise our right to vote in every election."
Dodge had challenged the findings of the Division of Elections on four ballots. The Supreme Court justices heard oral arguments Friday morning.
Justice Craig Stowers told Dodge lawyer Tom Amodio that one voter who supported Dodge changed his registration to another district when he included his business address in his Alaska Permanent Fund dividend application.
"He disenfranchised himself," Stowers said. "It wasn't the (Alaska Division of Elections) that did that."
Amodio replied that that was one way of looking at it.
The Supreme Court issued a short, two-page order affirming the recount results three hours after the hearing. The Court will release a full opinion in the future.
LeBon's win means there are 20 representatives who have signaled interest in joining a Republican-led majority. Nineteen members are interested in a caucus similar to the current, mostly-Democratic majority. Kenai Republican Rep. Gary Knopp wants a bipartisan majority with a balance between Republicans and Democrats.
Healy Rep. Dave Talerico would be the speaker if the Republicans can organize a majority. He said he's pleased with the ruling.
"I know it was one of those things that I think everyone was kind of anxiously awaiting to get the issue resolved," he said.
Talerico said he hopes LeBon's election will help his caucus attract at least one more member to form a majority. He said he'd welcome Knopp back, but he doesn't think Knopp's proposal for a bipartisan majority is workable.
"I personally don't see it as being something you'd be able to do in a short period of time," Talerico said. "It might be something that you'd want to plan on and work on and build, maybe even over the course of more than a year, to try and put something like that together."
As for LeBon, he said his focus is the state's fiscal situation, and his experience as a banker will help.
"I believe I can bring some good thinking to the table about financial matters," he said. "And I have a depth of life experience in Alaska that I think will help."
LeBon will be sworn in with the other new legislators on the first day of the session, Jan. 15.
Update (2:20 p.m. Friday) – Jeremy Hsieh, KTOO
A few hours after this morning's oral arguments, the Alaska Supreme Court issued an order affirming the Division of Elections' final count in the House District 1 election, meaning Republican Bart LeBon has won the November election by one vote.
The Alaska House of Representatives' Republican caucus, which has been identifying itself as the Alaska House Majority despite lacking a literal majority, put out a statement announcing LeBon's addition to its caucus. The caucus can now count half of the House as its members, one shy of a majority.
Original story (6 p.m. Thursday) – Jeremy Hsieh, KTOO
The Alaska Supreme Court is meeting in Anchorage Friday morning to hear arguments in Kathryn Dodge's case against state election officials and her election opponent.
Dodge, a Democrat from Fairbanks, is contesting the outcome of the recount in her House District 1 election. Election officials' final count put Dodge one vote behind Bart LeBon, her Republican opponent in that race. A Superior Court judge has recommended the high court uphold the state Division of Elections' count.
This is a three-way case: Dodge versus the state and versus Bart LeBon and the state Republican Party. The court has set aside 20 minutes for each side.
The case has statewide implications because neither caucus in the Alaska House of Representatives has a clear majority; therefore no one has clear control of House. More immediately, it has also limited the House's ability to organize and prepare for the upcoming legislative session, which begins in Jan. 15.
Come back to this post for a live video stream beginning at 9 a.m. Friday.