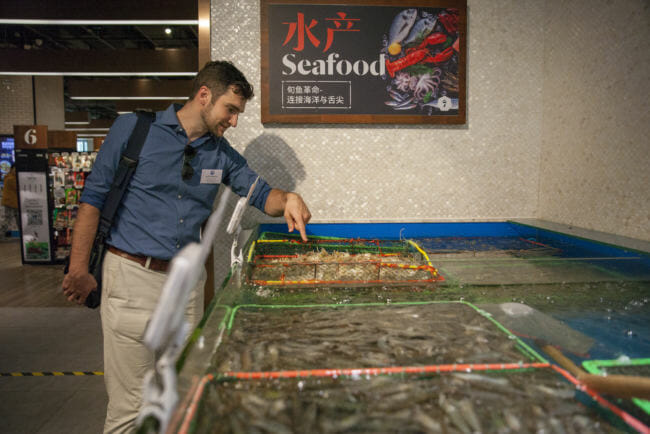 There's a lot of Alaska-born seafood in China. Walk into any McDonald's and pick up a fish sandwich and it's all wild Alaska pollock.
Trident Seafoods has been selling fish in China for 20 years.
Still, the average Chinese consumer probably doesn't recognize Trident's three-pronged logo.  That's because they've been selling seafood primarily as a commodity in China, not in stores and markets.
But that might change soon. The company sent a team with Alaska Gov. Bill Walker's trade mission to China and that team is working on a new strategy.
Jeff Welbourn is Senior Director of the Chinese Business Office for Trident Seafoods. He checks out a display of snowcrab legs, sea scallops and baby octopus at a seafood market in Beijing.
Trident isn't new to China.  They've got operations in the port cities of Dalian, Quingdao and Weihei.
What is new is the way they want to promote and sell their fish here.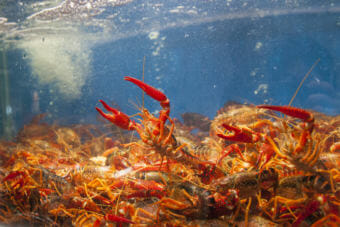 On a bus trip across Beijing, Welbourn talks strategy for getting their products into some new markets.
"Per capita consumption of seafood in China is mind-boggling. I mean you're talking, by some estimates, 40 kilograms [88 lbs.] per person, per year," Welbourn said.
Trident wants to reach those people directly to let them know that they're eating wild seafood from Alaska and to tell them where they can go to buy it again.
But it's not easy — there is a huge demand for fish in China. But, a lot of it is farmed.
"Creating comfort and demand for a species that doesn't currently resonate with consumers is a huge challenge," Welbourn said. "So wild Alaska pollock is something that we have worked really hard to make sure is differentiated as a very transparent, sustainable and, you know, prestige fishery."
Welbourn says a lot of Alaska pollock is already being consumed in China.  But, Chinese citizens likely don't realize it's wild and from Alaska.
"It is kind of a lot of beating your head at the wall until it breaks," he said.
So Welbourn and his team are exploring ways to bring their fish to a new market. A digital one.
We end up at the Beijing headquarters of JD.com, Incorporated.
It's an e-commerce company with an enormous platform of about 300 million active users — think Amazon or Alibaba. Trident already has some of its seafood listed on this site. Customers can go online and one-click order something wild from an Alaska seafood company and get it shipped right to them. Grocery stores can order the seafood, too, and Trident wants to expand that reach.
After a tour, the group heads up to a boardroom to talk business.
And, it's not just seafood here, although that is the bulk of the trade delegates in the room. It's also people from the Mat-Su borough and Bambino's baby food. The group talks for a few hours about everything from what the e-commerce giant buys and sells to when and how they should market it and who should pay for that marketing.
And, while they don't come to any firm deal, it's clear by the end of the meeting that they've made progress and Welbourn's China-based team can follow up with the company.