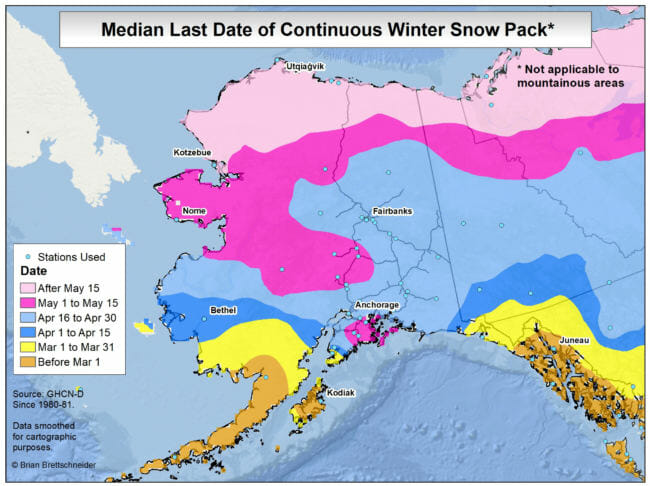 Right about now you may be wondering when the snow is finally going to disappear.
Climatologist Brian Brettschneider, with our Ask a Climatologist segment, can help answer that question. He says melt-out is  right on schedule for most places around the state.
That's important because an early melt-out date can make for an especially bad wildfire season.
Interview Highlights:
— Melt-out dates around the state include April 12 for Anchorage, April 22 for Fairbanks and May 18 for Kotzebue. In Southeast Alaska, snow is accumulating and melting out all winter long.
— For any one community, the snow melt-out date can vary quite a bit from year to year. The most important factor is how much snow falls at the end of the winter and during melt season. Once the sun angle is pretty high snow melt happens really fast, even if temperatures are below freezing. The sun can melt 2 to 3 inches a day.
— With a warming climate,  the melt-out date is moving a bit earlier in the season. That's important because this is the driest time of year and if the snow melts-out earlier, it's going to really increase the wildfire risk.
Brian Brettschneider is a climatologist based in Anchorage, with the University of Alaska Fairbanks.