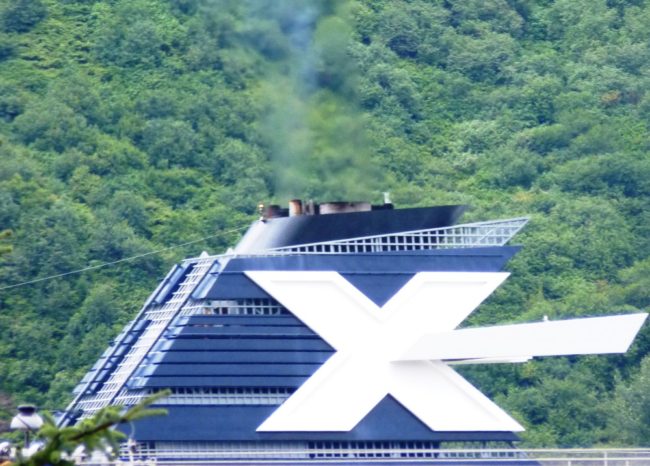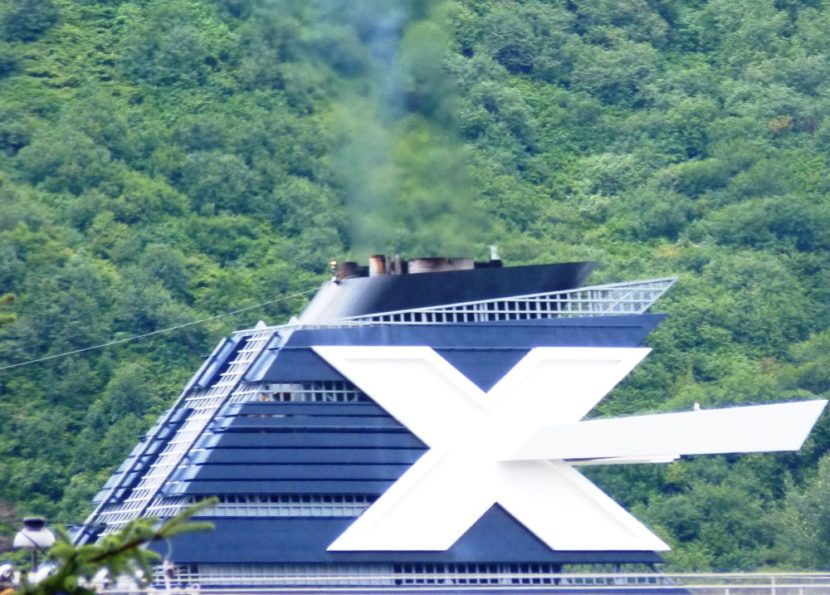 Over a million cruise ship visitors are projected to land in Juneau this year. And the summer cruising season is a big boost for coastal retailers. But, it also brings all of the noisy traffic, haze and water quality issues of big cities — to small towns in Alaska.  
On a rainy weekday Ed White, and a team from the Alaska Department of Environmental Conservation (DEC), walk down a busy sidewalk in Juneau.  
They dodge tourists who stop to photograph ravens against a panoramic foggy, mountain backdrop or dip into one of dozens of retailers downtown.
"Sometimes .. often we try to get out earlier in the morning when traffic's not as bad," White says. "We can also start closer up on a hill there near where some of the stairways and apartments are and do our air readings there."
White works for the state's cruise ship monitoring program.
And money collected from the cruise ship passengers is the reason he can do his job. Each passenger pays a small fee to the state. It pays for things like air and water quality monitoring. It's just a few dollars a ticket, but that money adds up. The state has collected more than $5 million this year.
White's cruise ship monitoring team is one of the only bright spots in the DEC's budget.
"Looking at the bigger long term picture. That's probably, you know, the most reliable funding source that we have — those fees that fund that program," said DEC Budget Manager Ruth Kostik.
Alaska has been struggling with a multi-billion dollar budget deficit, brought on by low oil prices. And most departments have taken big budget hits as the state tries to bring its spending down and its revenue up.
As lawmakers decide how to divvy up the state's general fund money — state departments have seen deeper and deeper cuts.
In the last four years, DEC has seen a drop of more than one-third of the unrestricted money it usually gets from the general fund.
And those cuts mean state monitors aren't able to keep an eye on a lot of things.  Find bedbugs in your hotel room? Too bad, the state doesn't do hotel sanitation inspections anymore. Rusty shears at your local salon? They don't inspect barbers or hairdressers either. Even some small drinking water systems don't get monitored anymore.
Kostik says DEC has lost 60 positions in the last few years.
But for now, the cruise ship monitoring program is shielded from those cuts as Alaska's cruising industry is booming.
Back in downtown Juneau, Ed White heads down to the dock.  Someone called his office to complain that the MV Noordam was belching smoke in the air as it motored into Juneau.
Now tied up. The Noordam towers over downtown.  It has 11 decks and is about the same height as the tallest building in town.
White's office gets these calls pretty regularly.  He says they average about one a week during the cruising season.
"A lot of people here in Juneau grew up with ships. They've been here for years so people know what ships generally look like when they're maneuvering…and often we get calls when something's… out of the ordinary," White said.
Clean air, clean water, responsible ships — it's important for a lot of Alaskans. The state was the first to require a Coast Guard licensed marine engineer to ride along with the cruise ships. They're independent observers — put there by a 2006 voter referendum that created the Ocean Ranger program. It's paid for by a $4 fee levied against passengers.
In 2016, Rangers reported more than 170 separate incidents — alleging oil pollution, wastewater and air pollution violations and potential safety hazards.
The ships will call too, often self-reporting a problem as they're fixing it.
And for now, that monitoring will continue.  Shielded from the state's shredded budget by out-of-state visitors.