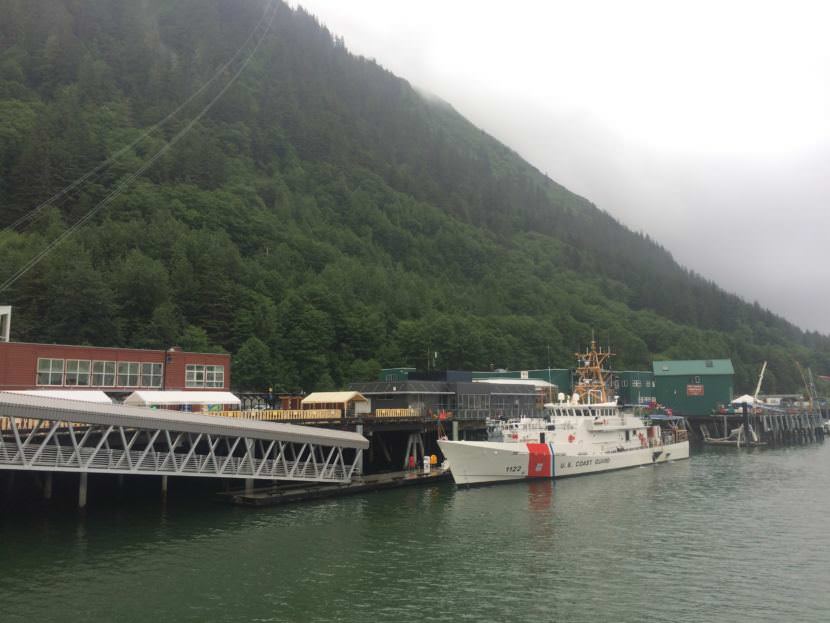 It looks like a yacht. And, it was named for someone who was not an officer in the Coast Guard.
The newest cutter for Alaska, the 154-foot Bailey Barco, officially entered service during a commissioning ceremony June 14 on the Juneau waterfront.
The naming of the 154-foot Sentinel-class cutters represent a new tradition for the Coast Guard. Each of the 58 vessels will be named after an enlisted member who distinguished themselves in the Coast Guard or its predecessors, the Lifesaving and Revenue Cutter services.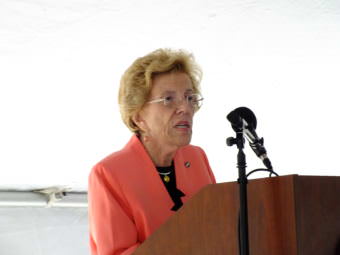 The vessel Bailey Barco was named for a keeper at the Dam Neck Lifesaving Station in Virginia from 1878 until 1901.
"Oh! I think it's great! I think it's marvelous!" said Carol Lash Pugh, Barco's great-granddaughter.
"I think it beats getting the Gold Medal to have a ship that is named for you. Oh, he would be thrilled," Pugh said. "All of my mother — aunts, uncles — all of them would just be thrilled to know this. It's a living thing that's still carrying on the work."
Braving storm and surf
A fierce nor'easter swept through coastal Virginia in December 1900 when the three-masted schooner Jennie Hall ran aground.
Barco and several of his surfmen, plus those from a nearby lifesaving station, rescued four of the schooner's crew using a lifesaving buoy suspended from a rope, called a breeches bouy.
In a final effort that was considered extremely dangerous in the fierce storm and intense surf, Barco used a surfboat to deliver two surfmen to the wreck. They were able to evacuate the fifth and last surviving crewmember of the schooner.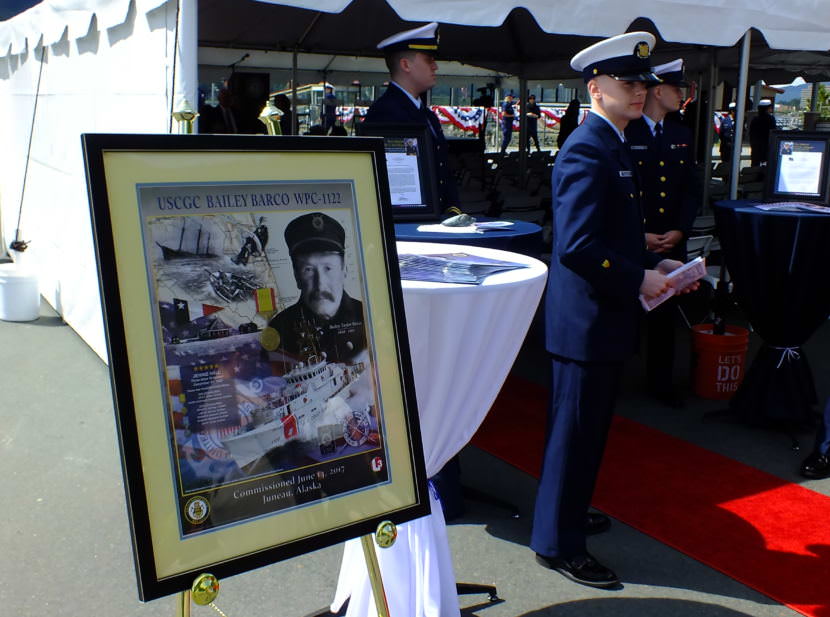 "The saying was that he got out of a sickbed to go to this rescue," Pugh said. "Whether that is really true or not, I'd heard through family lore that he had flu and he had gotten up and that he never really regained his health after that, and died shortly after or several months after that."
'A lot of responsibility'
In an interview after the commissioning ceremony, Pugh explained the other surfmen involved in the rescue were awarded medals, but none were awarded to Barco's surviving family members.
Pugh continued with her family's efforts to get Barco recognized for his heroism. It finally happened 80 years to the day after the rescue. He was posthumously awarded a Gold Lifesaving Medal in December 1980.
Bailey Barco's namesake vessel is Lt. Frank Reed's first command.
"Anytime you're in command of any ship, regardless of how new it is, it's a lot of responsibility," Reed said. "Mostly to do with the crew and making sure that their welfare is being met and their needs are getting taken care of, that you're leading them appropriately and accomplishing the mission."
In previous assignments, Reed served as a technical director embedded with the shipbuilder overseeing the Sentinel-class cutters' design, construction and testing.
The vessel is faster, longer, and has more displacement than the 110 footers. The cutter features four 50-caliber machine guns and a 25-millimeter chain gun on the bow. It also has better accommodations for a mixed-gender crew.
"It is a beautiful ship," Reed said. "It's a parent craft design. Damen is a shipbuilder in (the Netherlands). They built this style of ship for operations in South African seas and the North Sea. And we went with this design. It is beautiful. It does feel like a yacht sometimes."
Reed explained why the ship's design was so important.
"One of the things that we wanted was good sea keeping. We want to have something that goes fast as well," Reed said. "That can be difficult design trade off from time to time. The longer a ship, the faster it goes. The lines, the way that they've built the waterline allows it to maintain good stability in all weather conditions."
A year ago, Reed was assigned to the Bailey Barco during the construction process. He'll likely only spend another year aboard the cutter in Southeast Alaska before his expected assignment to another vessel.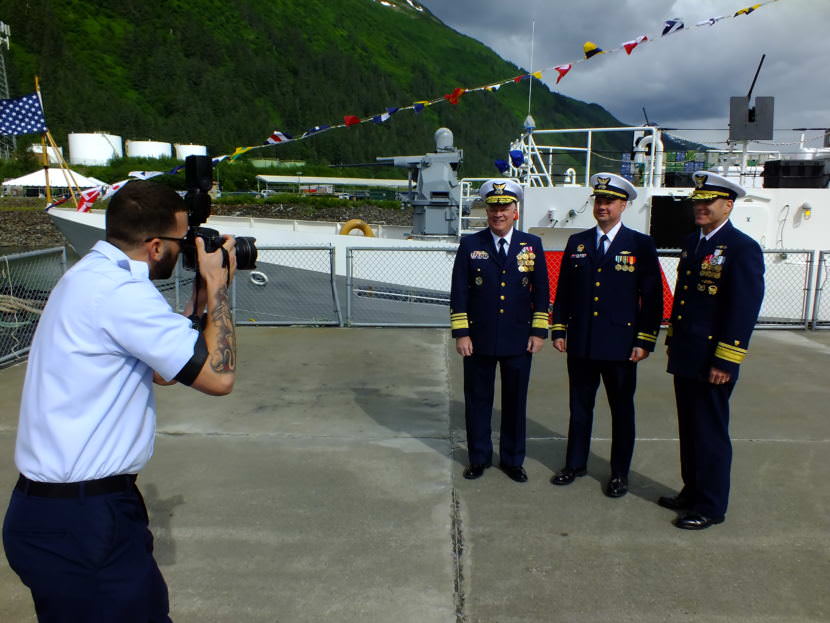 Modernization program
Vice Adm. Fred Midgette, the Coast Guard's Pacific area commander, explained in an interview after the commissioning ceremony that the new cutter is part of the service's long-planned modernization and vessel replacement program.
"It'll be a remarkably different Coast Guard, particularly when I think back to the Coast Guard I started in," Midgette said. "I started out in a ship that was at Pearl Harbor when the Japanese attacked. That was my first unit when I was a cadet. The big change that's happened in the Coast Guard is that our operations almost all driven by intelligence. I have a pretty good idea where the other side is and I can get these ships placed in the right places."
Rear Adm. Michael McAllister, commander of the Coast Guard's 17th District, said all of the 110-foot Island-class cutters based in Alaska – including the Liberty in Auke Bay – will eventually be replaced by the new vessels.
"They have increased endurance, meaning they can be underway for a longer period of time," McAllister said. "Increased sea keeping, meaning that they can launch boats and operate in much greater seas than the smaller 110-foot patrol boats. They've got improved communications capability which allows us to communicate back and forth with the vessel and provide appropriate tasking and for them to let us know what's going on. And then, increased range, meaning we can send them further without replenishment or reprovisioning between stops."
McAllister said six fast response cutters will eventually be stationed in Alaska. He said the Coast Guard expects to upgrade the shoreside infrastructure to accommodate the bigger vessel's technology and additional crew.
Although the cutter Bailey Barco will be homeported in Ketchikan along with its sister ship, the John McCormick, it is expected to patrol throughout most of Southeast Alaska.