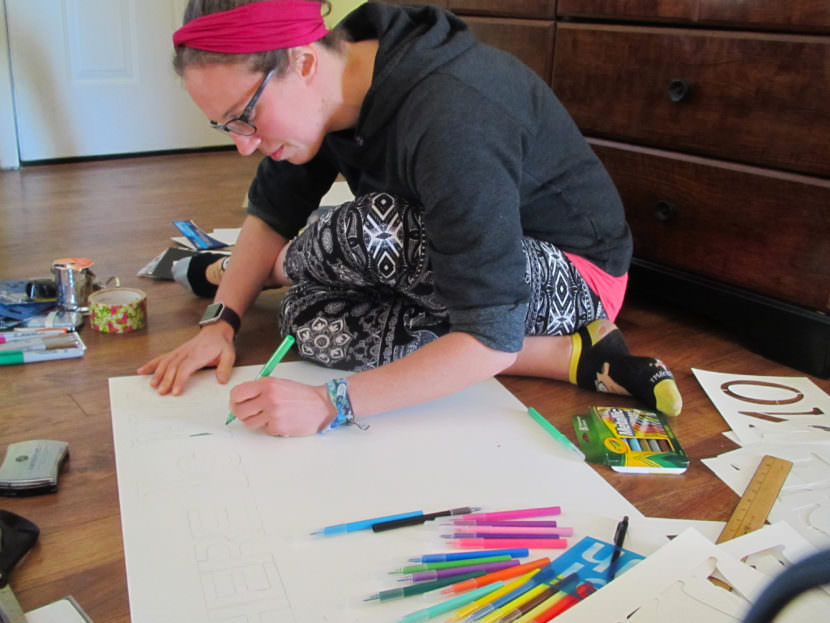 Though markers, stencils and stamps clutter the living room floor, this is no art class. Days before the March for Science, seven scientists are spending their evening making signs like "Science Saves Lives," "Make America Smart Again," "There Is No Planet B" and more.
The march is billed as a celebration of science. Veronica Padula is a PhD student in marine biology. She says the idea of the March is to increase awareness that science plays a role in everyone's lives.
"The mic in your hand — there's science behind the sound that is being collected and recorded in your mic," Padula said.
After the presidential election, she spent thirty days on a ship sailing from Germany to South Africa with graduate students from around the world. A turning point for her was realizing what her instructors meant when they referenced "global databases."
"Very often they were accessing data that were connected by NASA or NOAA," Padula said. "Organizations that are federal U.S. agencies. And I was like, oh we are playing a big role here with what we are doing as scientists in the U.S."
Stepping outside her American bubble she realized other countries take note of what the U.S. does — in terms of collecting data or supporting politically charged science topics — and it has international ripple effects.
Padula doesn't think science should be political. But with fears of major budget cuts to agencies and of data being wiped from the public record, she feels pushed to be more active.
"It's frustrating," Padula said. "It almost feels like it can't not be political at this point. Like we're kind of stuck in this moment where science has to be politicized and you have to pick what you stand for."
Ecologist Kathy Kelsey shares a lot of the same views as Padula, but she's less political.
"Science is something that politics can't touch and beliefs can't touch," Kelsey said. "It's just the way we understand the world."
The way Kelsey sees it, science has a process — you ask a question, collect data, and come to a conclusion that's vetted by the scientific community. So when that research is published, she says it shouldn't be undermined because people don't like the conclusion.
The March for Science is only the second time Kelsey has joined a rally.
"And I think the big thing that has changed for me is moving into an era where I no longer feel like somebody else is going to take care of it," Kelsey said. It meaning "maintaining high quality scientific information that is available to the public and is respected by the public," she said.
Both Padula and Kelsey are looking beyond the weekend's march. Through education and communication they want to reach out to non-scientists and expose future generations to the field.